PARTNERING WITH SIMTEC
Relying on the right material to save lives is imperative, whether your device is in contact with a human body for 30 seconds or 30 years. The benefits of implementing medical grade rubber into the field provide boundless opportunities for long-term effects as well as keeping up with safety and health regulations. The pros of liquid silicone rubber range from being UV safe, which means it doesn't yellow or break down, to being soft, which makes it comfortable for patients.
At SIMTEC, our advanced technology can manufacture countless skin contact devices. LSR is inorganic, hypoallergenic, naturally stable, and biocompatible along with many other characteristics that are ideal for the healthcare sector. The rubber is perfect for devices that interact with skin and won't cause irritations or respond to tissues. For example, respiratory masks made of LSR won't cause distress on a patient's skin and will feel comfortable.
For your business, you will want to choose the best material for your medical devices, and select a manufacturer with the modern technology and experience of SIMTEC Silicone Parts. Our resolutions can solve challenging technical issues, and we ensure consistent production of precision parts. The core attributes we deliver to every project include quality, speed, scalability, and cost-effectiveness. SIMTEC uses a high-quality control process that meets the standards of ISO 9001:2015, ISO 13485:2016/NS-EN ISO 123485:2016 and IATF 16949:2016 certifications.
We implement a rigorous quality control method where we verify part excellence via an in-process inspection. Our experts monitor pieces for defects, inconsistencies, and damage. We can even trace each product back to the exact date and time of production, including what process we implemented and the materials used. Especially when it comes to medical devices, we put them through stringent testing and evaluation of properties such as part quality and purity.
We have one of the lowest defect rates in the industry as well as Class VIII (100,000) and Class VII (10,000) clean room conditions. Our sterile facility prevents contamination from airborne particles and dust. Operations after the curing process eliminate gases and reduce the number of volatile substances. Our trained technicians and professionals customize the production of injection molded LSR medical parts to suit your needs.

ADVANTAGES AND SPECIFICATIONS OF LSR FOR MEDICAL DEVICES
Compared to other rubber solutions, LSR provides more clarity, purity, chemical resistance, and value. It will last a lifetime no matter the environment in which it's placed. With its process flexibility of creating surgical silicone and the combination of performance and biocompatibility, LSR becomes the perfect go-to material for when you require high-precision products that are reliable and have a smooth surface. Several advantages of LSR medical products include:
Bacterial resistant
Chemically inert
Compression, fatigue, and tear resistant
Easy to clean
Gas permeable
Incredible color stability
Limited scrap during the process
Low toxicity and viscosity
Stainless
A MORE IN-DEPTH LOOK AT THE PROS OF LIQUID SILICONE RUBBER
The many qualities of liquid silicone rubber will surpass all expectations as well as medical regulations. The advantages of using silicone rubber for your product solutions overshadow all other options.
BIOCOMPATIBILITY
One of the most significant advantages of liquid silicone rubber in the healthcare industry is that it's biocompatible. Biocompatibility means LSR is not harmful to living tissue. The skin-safe silicone rubber meets USP Class VI tests, ISO 10993-1, and RoHS standards. As an odorless, tasteless, and inorganic material, our LSR solutions don't release harmful chemicals within an organic environment.
LSR has undergone extensive forms of testing to ensure it's compatible with human fluids and skin. When you compare LSR to other elastomers, our solutions are resistant to bacteria growth and won't corrode over time, which is vital for medical use, especially implants.
THERMAL STABILITY
SIMTEC's LSR also has superior thermal stability compared to all other competitor products. It can retain its flexibility, resiliency, and aptitude of transmitting mechanical forces within a range of extreme temperatures. While low temperatures or a high level of heat can alter typical forms of rubber, LSR is resistant to risky temperatures from -150 to 450 degrees Fahrenheit. Because silicone rubber curates when heated, high temperatures don't alter its performance. And when it comes to freezing conditions, LSR doesn't become brittle.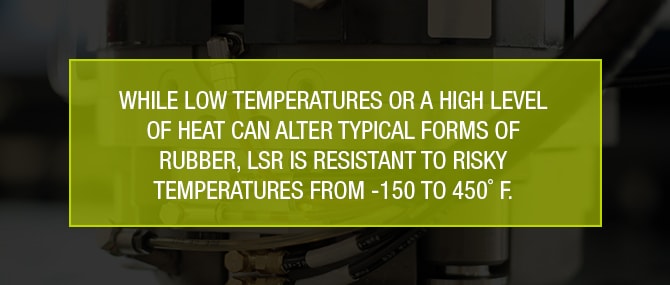 FLEXIBILITY FEATURES REMAIN INTACT IN COLD CONDITIONS
LSR remains elastic at low temperatures, and its properties remain the same at cold temperatures, such as when using liquid nitrogen like for wart removals and other procedures. The rubber won't become brittle and break. Its high flexibility features differ with each type of LSR, as some have an elongation breaking point of 1,000 percent. Its ability to resist heat and tolerate below-freezing conditions means it's up for any operation in the medical field.
SMOOTH AND COMFORTABLE SURFACE
The mixture of silicone and methyl chloride, along with the cross-linking methods, formulates a smooth end product of liquid silicone rubber. The LSR injection molding process produces dry and non-tacky surfaces that make for a comfortable material. SIMTEC can achieve different textures depending on the application, but for the most part, medical tools are smooth to the touch which is ideal for items coming in contact with sensitive skin areas.
ELECTRICAL INSULATING PROPERTIES
LSR also holds ideal insulating properties. As an electrical insulator, silicone rubber can maintain its top-quality features despite environmental stresses such as moisture, UV and ozone factors, and extreme temperatures. The medical grade compliant rubber is free of impurities and doesn't discolor from UV light. UV light can cause other rubbers to turn yellow and break down.
ELONGATION CHARACTERISTICS
Elongation is another benefit because LSR can flow into long sections to create complex shapes that have aggressive undercuts. It produces a small level of draft, and it can adhere to plastics without priming as opposed to other rubbers.
HYDROPHOBIC ELEMENTS OF LSR
SIMTEC Silicone Parts manufactures hydrophobic solutions, meaning LSR repels water, resulting in exceptional sealing properties. By creating sealed components, your business can trust that our LSR product won't leak if you use devices such as syringe stoppers.
LSR CAN ENDURE STERILIZATION
The silicone rubber we produce even withstands sterilization whether you use E-beam, ETO, autoclave, or gamma radiation processes. Cleaning your tools means they are reusable. Sterilization is essential in the medical field, and LSR is up to par by withstanding harsh chemicals. Without clean devices ready at hand, medical personnel will suffer and have to buy new products, which becomes expensive and non-sustainable continuously.
COSMETIC BENEFITS
Cosmetic reasons is another variable where liquid silicone rubber excels. While other rubber degrades over time and even turns yellow, LSR retains every property throughout. Although another rubber product may be in top condition, the discoloration will cause doctors and patients to think otherwise. It can be perceived as a faulty or a defected tool. However, you won't come across this with LSR as it's not affected by various environmental factors and lasts long-term.
CHEMICAL RESISTANCE
Resistant to water, oxidation, and several chemical solutions like alkali and acids, liquid silicone rubber is ideal for the medical industry. Whether the product is for short or long-term use, it will not dissolve or degrade, which protects patients.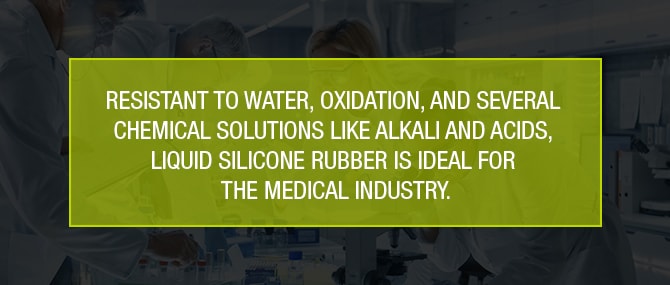 DURABILITY
Because LSR can uphold its properties throughout extreme situations like temperature, they are fire retardant and will not melt. This is an advantage during the sterilization process along with other environments that would otherwise destroy other rubber forms.
THE ELIMINATION OF EXCESSIVE ASSEMBLY PARTS
SIMTEC's 2-Shot innovative technology manufactures and combines two or more parts at a time, which saves you money and results in quick turnaround times to the market. Instead of paying for several assemblies, invest in multi-shot and eliminate the need for additional parts because the injection mold completes everything at once.

Our technology integrates various materials into one mold as opposed to using different substances for a variety of components. It's a complicated yet streamlined process that's a cost-effective solution for the healthcare sector.
ADDITIONAL BENEFITS OF LSR
Other advantageous factors presented by LSR include:
Clarity
Available color matching
Compression resistant
Dielectric strength
Extended product life
Gas permeability
Low toxicity
Low viscosity
Non-allergenic
Resilient to tears and stress
Scratch-resistant
Superior light transmittance
Tight tolerances
HOW YOU CAN USE LSR PRODUCTS TO ADVANCE YOUR COMPANY
Your business within the healthcare sector has the opportunity to mold liquid silicone rubber into an unlimited number of shapes. No matter if you require tiny pieces for precise tools or you need larger forms to create soft-rubber overmoldings, SIMTEC Silicone Parts can manufacture LSR parts according to your needs and expectations. By implementing the 2K overmolding process, we can form several pieces in one mold, reducing material and assembly costs.
With the excellent transparency features of LSR, doctors, nurses, and other healthcare professionals can see through different tools for superior precision. The transparent material is perfect for applications like lenses, light covers, and light pipes. Liquid silicone rubber is second to glass in light transmission.
Silicone rubber solutions from SIMTEC are available in different durometers, and our experts can match it to the exact function of the part you request. We can create products that are a bit tacky to keep things from sliding off or items that are smooth for inserting into a patient.
CHOOSING SIMTEC AS YOUR PARTNER
Now that you understand the various properties of LSR, how it can benefit your company, and the different devices it can develop, you must also consider the right partner for the job. SIMTEC Silicone Parts will help you develop solutions for your business for a competitive advantage. We offer economic conditions on a global scale, and our sole focus is on perfecting our LSR and LSR 2-Shot solutions.
Our manufacturing process reduces waste, which decreases the amount you have to spend. We also leverage the material's characteristics specific to each project. Our technicians use the unique properties of LSR to manufacture perfect solutions. SIMTEC also delivers consistent and high-precision parts with tight tolerances. We spend our time, energy and resources to applying modern techniques and technology to our entire LSR business.