Similar to other industries, medical product manufacturers are always looking to reduce cost, improve the quality of their products and extend lifetime performance.
The focus on long-term cost and price stability has a direct effect on manufacturers' sales revenues and profits.
The medical device market requires a lot of skill and research, especially in the areas of material selection and manufacturing processes.
In the medical industry, material performance can be the difference between health and injury. Consequently, whether you evaluate metal, plastic, ceramic or Liquid Silicone Rubber (LSR) for your medical device, the most important aspect to consider concerns the compatibility of the material with the functionality the equipment requires.
When it comes to choosing materials for new medical equipment and devices, engineers need to consider a variety of factors, such as biocompatibility, qualification, regulation and cost.
For silicone medical devices, many applications have components that have the durability to withstand a variety of tough conditions, such as heat, high pressure, chemical exposure and biocompatibility.
Until LSR came along, medical device manufacturers had a difficult time finding materials that meet their criteria for custom silicone molded components and assemblies.
Medical-grade silicone molding lends itself to dental and surgical dental applications, consumer health care products and other medical products and devices.
READ OUR LSR IN THE MEDICAL INDUSTRY GUIDE
WHAT IS LIQUID SILICONE RUBBER?
Over the last hundred years, material innovations in basic and specialty elastomers have led to a range of materials that are suitable for a broad range of applications and operating environments.
The materials vary in terms of key characteristics, such as elasticity, strength, hardness, compatibility, temperature range, environmental resistance and other properties.
One of these materials, LSR, which has been around since the 1970s, continues to make the transition to becoming the premier material for the manufacture of medical products and devices. LSR consists of a highly flexible thermosetting plastic that comes in a broad range of composition and hardness.
The variety of LSR materials allows product designers and engineers to select the material with the characteristics most appropriate for the application.
At room temperature, thermoplastic begins as solid material, which softens when you heat or reheat the material above its melting point.
In comparison, thermosetting materials start out in liquid form, and the heat cures the resin into a solid state. Once it cures, the part remains solid — a feature that helps make LSR the idea material choice for numerous medical applications.
The key attributes of LSR include:
Hardness
Tensile strength
Compression set
Fluid resistance
The benefits of medical-grade LSR over elastomeric materials include:
Bio-inert material in compliance with ISO 10993, USP Class VI and RoHS standards
Ability to be sterilized with a variety of methods such as Autoclave, ETO, E-beam and Gamma radiation processes
Low viscosity that allows flow to all parts of the mold
Excellent stability over a broad range of temperatures 150°F to 450°F
Low compression set
Self-adhesive LSR that chemically adheres to plastics without the need for priming
Ability to maintain its resiliency, flexibility and capability to transfer mechanical force at extreme temperatures
LSR has superior electrical insulating qualities even under the most severe environmental conditions. The manufacturer can acquire mold cavities specifically tailored to achieve different surface textures for parts and products.
THE IMPORTANCE OF MEDICAL-GRADE LIQUID SILICONE RUBBER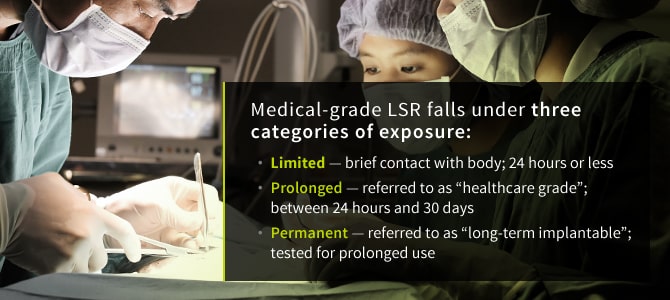 Dr. Frank Lahey receives credit for the first-known use of elastomeric silicone to repair a patient's bile duct in 1946. Lahey was attracted to the material because of its stability and elasticity, which allow the material to be cast into virtually any shape.
Today, a variety of silicone materials meet the standards for medical device manufacturers, including medical non-implantable, medical restricted implantable and medical unrestricted implantable.
One of the primary reasons silicone has developed into a key material for medical applications has to do with the biocompatibility of the material and the ability to use it in a broad array of life-saving medical devices such as pacemakers and hydrocephalic shunts.
Innovations in material science have made non-implantable materials more commonly available in a variety of durometers. This makes it possible to fabricate medical devices of varying hardness levels.
Non-implantable grade LSR for mold-making can come into contact with the skin, but not the inside of the body. Medical silicone rubber must undergo specific safety testing evaluation.
ISO 10993 provides a multipart standard used worldwide to evaluate the biosafety of this material. LSR meets the criteria as outlined by ISO 10933 for use in medical applications.
Medical-grade LSR falls under three categories: limited exposure, prolonged exposure and permanent contact.
Limited exposure — For devices that will come into contact with skin, mucosal membrane or compromised and breach surfaces, this category has a brief service life of 24 hours or less.
Prolonged exposure — This material, referred to as "healthcare grade," is based on tests such as haemolysis, genotoxicity, toxicity and intramuscular implantation with histopathology. This material has a surface or implant contact of more than 24 hours and up to 30 days.
Permanent contact — Also known as "long-term implantable," this medical silicone rubber must undergo physiochemical and biological testing that exceeds the testing protocols for prolonged exposure, including carcinogenicity, chronic toxicity and developmental toxicity.
If you have a new or existing application that requires any type of housing, valve, dampener, gasket, seal, coupler, or membrane button — uses that could benefit from inertness, low compression set or temperature resistance — could realize substantial benefits from medical LSR medical-grade liquid silicone.
THE ADVANTAGES OF MEDICAL-GRADE LSR OVER ALTERNATIVE MATERIALS
Medical-grade LSR approved for medical applications where it will come into contact with skin has tremendous stability and is water repellent, which prohibits cured material from being affected by contact with skin. Unlike materials such as latex, LSR is non-allergenic, so the material does not affect the skin.
The hygienic quality of LSR helps it to resist the growth of bacteria and fungi. LSR has the inherent qualities of flexibility and softness, which ensure the patient's comfort. The water-repellant characteristics prevent the material from sticking to wounds.
LSR can not only tolerate heat, but it also remains extremely elastic at very low temperatures. The flexibility of the material depends upon the nature of the compound, but it is typically very high. For example, some LSR materials have an elongation break of 1000 percent.
LSR also has a low compression set or low permanent deformation upon the application or removal of force. LSR also withstands ultraviolet radiation well. The stability of the cured part prolongs the product's shelf life.

While many designers compare LSR to thermoplastic elastomers (TPS) like Santoprene™, LSR has developed a reputation the as "TPE on steroids." LSR costs more than other resins. The material also has a longer cycle time for the molding process compared to other thermoplastics.
However, LSR allows you to combine multiple components and reduce the cost of production runs. Nonetheless, the overall capabilities of LSR make it a smart choice for many medical device applications.
The benefits of selecting medical-grade LSR over other options include:
FDA biocompatibility
Resistance to chemical and bacteria
Excellent transparency, which allows light transmittance and illumination
Gas permeability
Clarity
High elongation
Superior dielectric strength
Superior tensile strength, elongation, tear strength and compression at temperature extremes
Ability to function in extreme temperatures
Low compression set at wide temperature ranges
Compared to high-consistency rubber (HCR) and other elastomers, LSR makes a better material choice for manufacturing high-precision medical components and devices with detailed geometries that require high accuracy.
MEDICAL DEVICES MANUFACTURED USING LSR INJECTION MOLDING
The material used to fabricate medical devices consists of LSR. Some components may require multiple molding processes, which requires a thorough evaluation of different manufacturing variables, such as product lifecycle, production volume, part geometry and material type.
The liquid injection molding process requires the mixing of two parts of LSR in a static mixer before transference to the screw. The screw forces the material into the mold in a certain shot size. This process often automates LSR molding of quality parts at a high volume.
Product designers choose LSR for the design and manufacture of medical silicone parts and devices for a broad range of applications. Specialty medical fields that use LSR medical injection molding include:
General surgery
Cardiology
Oncology
Bariatric surgery
Plastic surgery
Ophthalmology
Wearable health monitoring devices
Dialysis
Neurosurgery
Ear, nose and throat

When choosing a material for your project, the cost of LSR may become a sticking point. Unfortunately, many medical products and device manufacturers make a strategic decision to compromise on product design and performance so they can save money on up-front tooling costs.
However, the selection of medical-grade LSR pays off in the form of improved quality and better performance.
Over the long run, medical products and devices molded from LSR can withstand the most challenging conditions.
OVER-MOLDING MEDICAL DEVICES WITH LSR
The medical market and healthcare industry requires materials and processes that will allow manufacturers to create a product with tighter tolerances, sterilization capabilities and soft-touch surfaces and colors.
Over-molding describes a manufacturing method that adds another layer of material over an existing part. The process goes by other names, such as multi-shot, double-shot, hard/soft overmolding, twin-shot molding and 2K molding. The technique has taken root as a viable manufacturing process in the medical industry as product-makers realize the tremendous benefits.
Over-molding is an injection molding process that has drastically changed the aesthetics, design and functionality of medical products over the last few years.
Surgeons and other clinicians have become more enthralled with devices and surgical instruments that have soft-touch handles, which improve the grip. Over-molding allows for the fabrication of handles into an ergonomic shape that fits into the hands of the end user or interacts with attachments.
The molder starts by overmolding a shaft of metal with LSR to form the desired shape. The molder uses thermoplastic to create the soft-touch handle.
The process allows product designers to create parts with seamless surfaces and no gaps, which eliminates traps for contaminants. The transparency of LSR material allows the surgeon to see through the instrument and work with more precision.
The over-mold method has increasingly grown as a viable process in the medical market because more device-makers realize its potential advantages.
This process works well for products or devices that require handles, biocompatibility, heat resistance or chemical resistance. Some soft thermoplastics such as TPE can replicate some of the characteristics, but LSR has attributes that far outweigh the properties of other materials, including durability, biocompatibility, cold and resistance to heat, chemicals and UV light. LSR also has unparalleled flexibility and moldability.
COST SAVINGS MANUFACTURING WITH LSR
Product designers come under increasing cost pressure, which means they must be more creative.
Consequently, the mantra is to mold as much functionality into the part as is feasible, while simultaneously minimizing material cost, secondary processes and assembly. The part must also have structural ribbing to improve functionality.
The part serves as the skin and a structural member of the frame. For surgical instrumentation, overmolding over plastic and metal has become preferable to machining an entire instrument from metal or alloys.
Product manufacturers find they can trim costs by molding over a piece of metal and having the metal only where needed, i.e. the cutting area, and casting the remainder of the instrument in plastic.
The ability to mold in intricate geometries saves machining an entire device. It is especially conducive to high-volume production and costs much less than traditional machining.
BRANDING IDENTIFICATION FOR LSR MEDICAL DEVICES
Many companies employ the overmolding process to brand their company's name, logo, color or other characteristics into the product.
The process is also conducive for fabricating parts where the specifications call for a tight tolerance, entirely closed part or very thick parts. Molding over plastic is a good solution, producing solid surfaces, both top and bottom, and very thick parts.
LSR enables part designers to eliminate the priming step.
You can add LSR only where needed on the part to serve a functional purpose, without needing to cover additional surface area in order to keep the LSR in place.
Conversely, the areas of the part that do not require overmolded LSR no longer need to increase the thickness to endure the heat of curing the material.
You will manufacture your parts more economically because you use only as many materials as needed, which results in smaller parts.
MEDICAL-GRADE LSR CAN GIVE YOUR PRODUCT A COMPETITIVE EDGE

The ever-evolving and highly innovative nature of the medical industry makes it necessary to have a material like medical-grade silicone rubber to fabricate products ranging from tubing to life-saving healthcare devices.
The high degree of repeatability by applying high-quality molding methods and automation as well as the ability to automate the process and the production of flash-less products lends itself to high-volume production.
The ability to access LSR blends enables medical product manufacturers to strike the appropriate balance between the characteristics and material.
Adding a process like the LSR 2-shot injection molding process can catapult you above your competitors.
At SIMTEC, our sole focus is on LSR, so we have the experience and expertise you require to manufacture large quantity (+500,000 item) product orders.
We have fine-tuned our process so we can consistently produce high-quality products.
SIMTEC's Miramar, Florida manufacturing facility is ISO 9001:2015, ISO 13485:2016/NS-EN ISO 123485:2016, and IATF 16949:2016 certified. This means we adhere to a set of repeatable processes so that each part we produce is of a uniform size, shape, and consistency.
We have one of the lowest defect rates in the industry, and we can customize our QC protocols to reflect your specific regulatory and internal requirements.
Class VIII (100,000) and Class VII (10,000) clean room facilities are also available to limit exposure to dust and other airborne particles. If you need a custom product made using medical-grade silicone molding, SIMTEC is here to help, from assisting with mold design to prototyping.
To learn more about medical-grade Liquid Silicone Rubber or receive a free quote, contact a SIMTEC representative today.