HOW LED HEADLAMPS MADE OF LSR PARTS OFFER A SUPERIOR ADVANTAGE TO THE AUTO INDUSTRY
Although SIMTEC Silicone Parts creates LSR components for automotive grommets and other automotive applications ranging from windshield wiper blades, valves, dampers, seals and harness components — we are seeing a significant benefit when the industry uses LSR products for LED headlamps.
Automotive rubber parts used for the manufacturing of lenses and reflectors make a significant impact on your vehicles. When we create the two components from our LSR technology, we design them to provide exceptional clarity and longevity. By placing additives in the LSR process, reflectors can reflect back almost 100 percent of light, meaning it will amplify the LED light.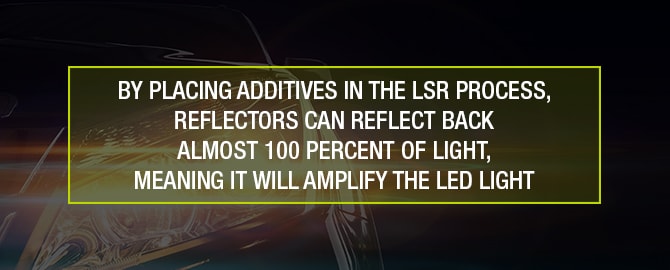 As a result, your LED headlamps will require less energy and will live longer. Optical grade silicone LED lenses offer the auto industry glass-like clarity with minimal fog-like appearances.
By using a combination of polycarbonate and LSR materials, we have control over the adhesion process. Since bonding occurs when the PC lamp cools, the method avoids problems with water, liquids and dirt from entering that may affect the performance of the LED headlamp. An additional benefit of using LSR LED headlamps is that they are also suitable for other applications such as streetlights and traffic signals.
AUTOMOTIVE APPLICATIONS USING SIMTEC'S LSR TECHNOLOGY
SIMTEC offers excellent LSR solutions for the automotive industry. Let's take a more in-depth look at how we design and manufacture automotive rubber parts for various applications.
We create 2-Shot and multi-shot LSR as well as single-shot LSR products such as:
Connectors: Single wire seals, radial seals, axial seals, mat seals, covers and 2-Shot
Ignition systems: Spark plug boots and ignition coils
Sensors: Seals and 2-Shot housing with seals
Electrical actuators: Door light switch, sensors, key FOB components
E-mobility: Seals and 2-Shot housings with seals
SIMTEC uses different applications, materials and design processes to manufacture each part:
Single wire seals: Single wire seals are connectors where we use oil-bleeding LSR materials for better assembly. Implementing an ID design is critical to prevent insulation damage. Benefits include a high output that makes it more competitive, an open nozzle that requires low maintenance and has long life tooling and no sprueing (surface depressions) or flash (excess material) which means no de-burring, or trimming, needed. The process for creating single wire seals is a quality-smooth automated assembly with consistent output.
Mat seals: Mat seals are connectors that protect connections from the environment. SIMTEC uses oil-bleeding LSR for better assembly, which also makes it impervious to extreme temperatures and water. Advantages of using this process result in no flash, which means good pass-through and low insertion force.
Ring seals: Ring seals are connectors that shield electrical connections from environmental forces — similar to mat seals. SIMTEC experts use a dm10-400mm design and oil bleeding LSR material. Ring seals have dimensional stability that make assembly easier.
Cover/seal: Covers and e-mobility applications provide seals for electronics along with vehicle-side charging handle components. We use LSR standard-grade material and a defined seal bead height design that results in no flash.
2-Shot flange seals: Applied as 2-Shot screw couplings, 2-Shot flange seals use LSR and thermoplastic materials with an unscrewing core design. Positive aspects encompass no need for secondary options, and the seal remains in position during tightening.
2-Shot radial seals: The radial seals apply as engine connectors using LSR and GF polybutylene terephthalate (PBT) materials. We design the parts with sealing on the inside which has many advantages. It creates an excellent bond and perfect fitting seal that prevents leakage. The products perform in high-heat environments, and they require no secondary assembly, meaning they qualify as one component vs. multiple. Finally, the integrated seal prevents rollover and displacement.
2-Shot dual seal connectors: Applied as a ring seal in a firewall, 2-Shot dual seal connectors use LSR and PBT materials with an intricate design. SIMTEC uses an ID seal to protect the wiring, an OD to seal connections and color-coding for different variants. Positive outcomes involve a high number of variations in a one base mold.
2-Shot peripheral seals: 2-Shot peripheral seals are connectors made of self-adhesive LSR and PBT materials along with an LSR seal and female connector design. As a result, it creates an automated assembly and has a lower tooling investment with family tools. It also prevents seal rollover and displacement, eliminates the need for secondary assembly and qualifies as one component vs. multiple.
Sensor covers: Used as proximity sensors, sensor cover plugs use LSR materials, and the 2-Shot cover assembly uses self-adhesive LSR and nylon. Advantages range from the plug having no flash and a notch for proper sealing to the 2-Shot cover having no extra overmolding.
Cushions: Applied as AC vent cushions, they use LSR material which results in reduced mold costs because the dual nozzle system prevents vibration and dampens noise. Cushions also perform well in extreme hot and cold conditions.
As you can see, our range and ability to manufacture LSR auto parts is extensive and detailed. We make each component compliant with regulations as well as with your expectations.