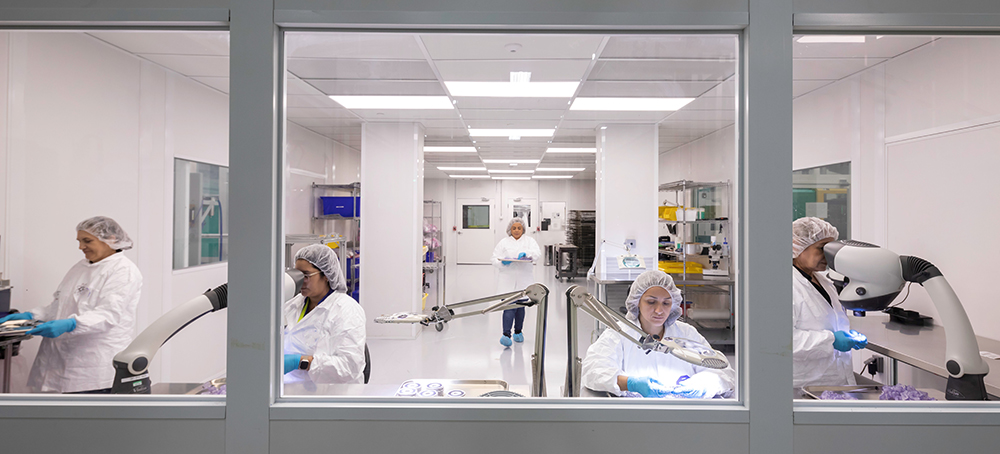 Medical LSR Products
Medical, healthcare and life science companies have high expectations – parts must adhere to increasingly tight tolerances and meet cleanliness requirements. Compared to other materials and processes, medical grade LSR coupled with SIMTEC's advanced molding technology, class 8 clean room, and highly automated LSR/LSR 2-shot / multi-shot manufacturing provide greater clarity, chemical resistance, purity, and value for high precision silicone components.
Environmentally-Controlled LSR Part Manufacturing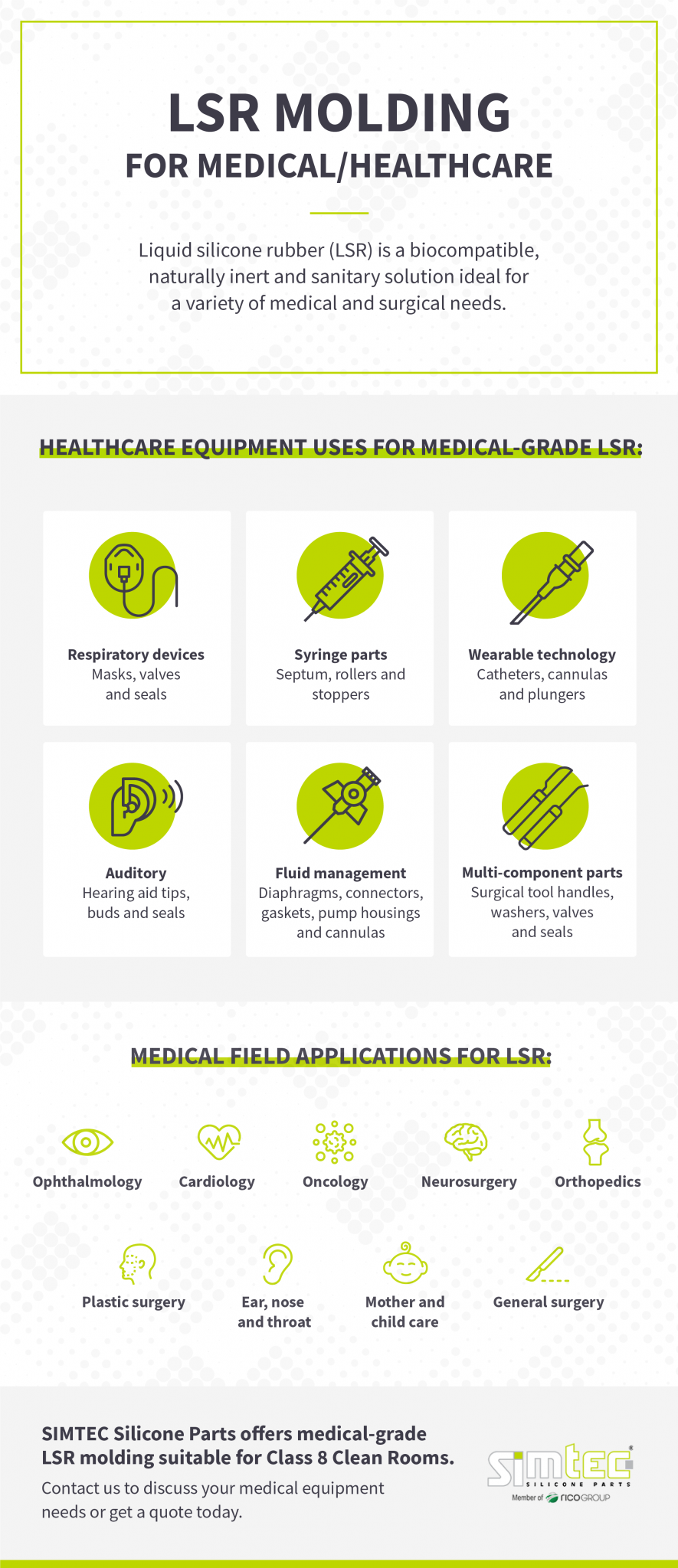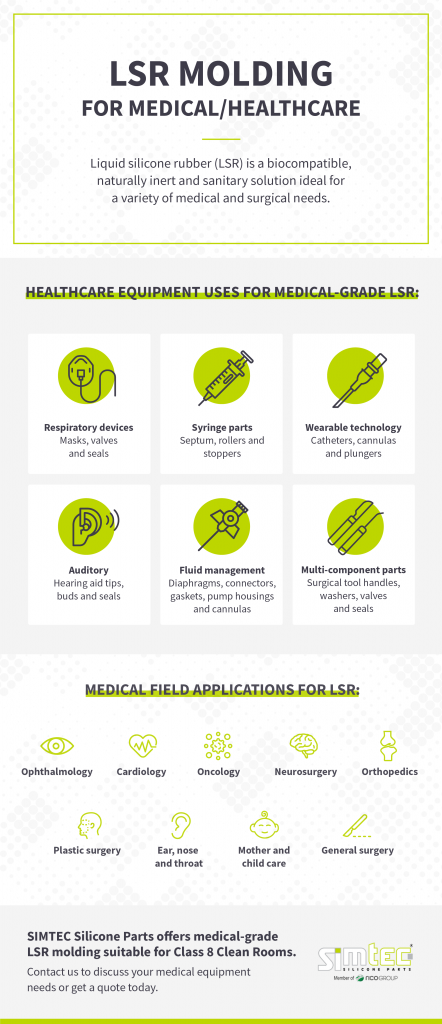 Components used in surgical, medical and healthcare devices have strict requirements. Clean, hands-free manufacturing, biocompatible medical grade materials, and in some cases post-curing and sterilization post-molding processes are also required.
SIMTEC's ISO 13485 certified quality and environmentally-controlled LSR, LSR multi-shot and LSR overmolding manufacturing cells meet these requirements. Our fully automated hands-free injection molding, and ISO class 8 clean room ensure precision accuracy, high quality and protect critical components from dust, particles, and contaminants.
LSR Molded Medical Component Examples
Liquid Silicone Rubber (LSR) is naturally inert, resistant to many substances, and bio-compatible, making it an ideal choice for a wide range of medical and healthcare devices, mother and child care products, sanitary and others with hygienic requirements.  For some medical and healthcare products, hygiene is critical and requires production in a hygienic, environmentally controlled environment.
To meet these needs, SIMTEC Silicone Parts offers LSR and LSR Multi-Shot molding in its ISO-certified Class 8 Clean Room.
For specific, information about LSR's suitability for medical device injection molding, we recommend visiting our technical information page or contacting us directly.
Respiratory Devices
Unlike many natural rubber/latex products, Liquid Silicone Rubber's molecular structure is composed of an inorganic backbone, and it is naturally stable, hypoallergenic and bio-compatible, which makes it an ideal material for silicone medical devices with skin contact applications, such as respirator masks and other respiratory devices.
Fluid Management
High precision LSR medical device injection molding enables the manufacturing of perfectly uniform components directly out of the machine. The flexibility of the material is ideal for valves, diaphragms, and other silicone medical products which need to yield under pressure but fully close when pressure is released. Because LSR is inert and has superior physical properties it is also perfectly suited for components that come into contact with chemicals, blood, and bodily fluids such as connectors, seals, gaskets, and impellers used in dialysis filters and infusion pumps.
Syringe Parts
Using the right design and LSR material for syringe stoppers and plugs ensure optimal sealing pressure and friction. LSR's low compression set and superior strength make the material perfect for silicone medical products, such as syringe stoppers. Our automated, high-precision injection molding technology ensures consistent, repeatable, high-quality parts. In-line assembly or direct over-molding can add value for syringe stopper applications by reducing or eliminating assembly costs and errors.
Multi-Component Metal/Plastic to LSR Parts
Multi-component molding offers the benefits of improved part quality and consistency. Complicated assemblies can be eliminated by direct mechanical and chemical bonding of LSR onto plastics or metal, thereby reducing assembly time and costs. Over-molding LSR onto surgical tool handles provides added grip strength for increased accuracy and comfort, while at the same time providing a surface that can be sterilized or auto-claved. Multi-component valves, washers, and seals also benefit from LSR's material properties and the reduced assembly steps of LSR 2-Shot medical device injection molding or over-molding.
Device Components
Liquid Silicone Rubber is ideal for medical injection molded components, such as tubing connectors. The main characteristics of LSR that benefit this type of application include high purity, transparency, flexibility, and inertness.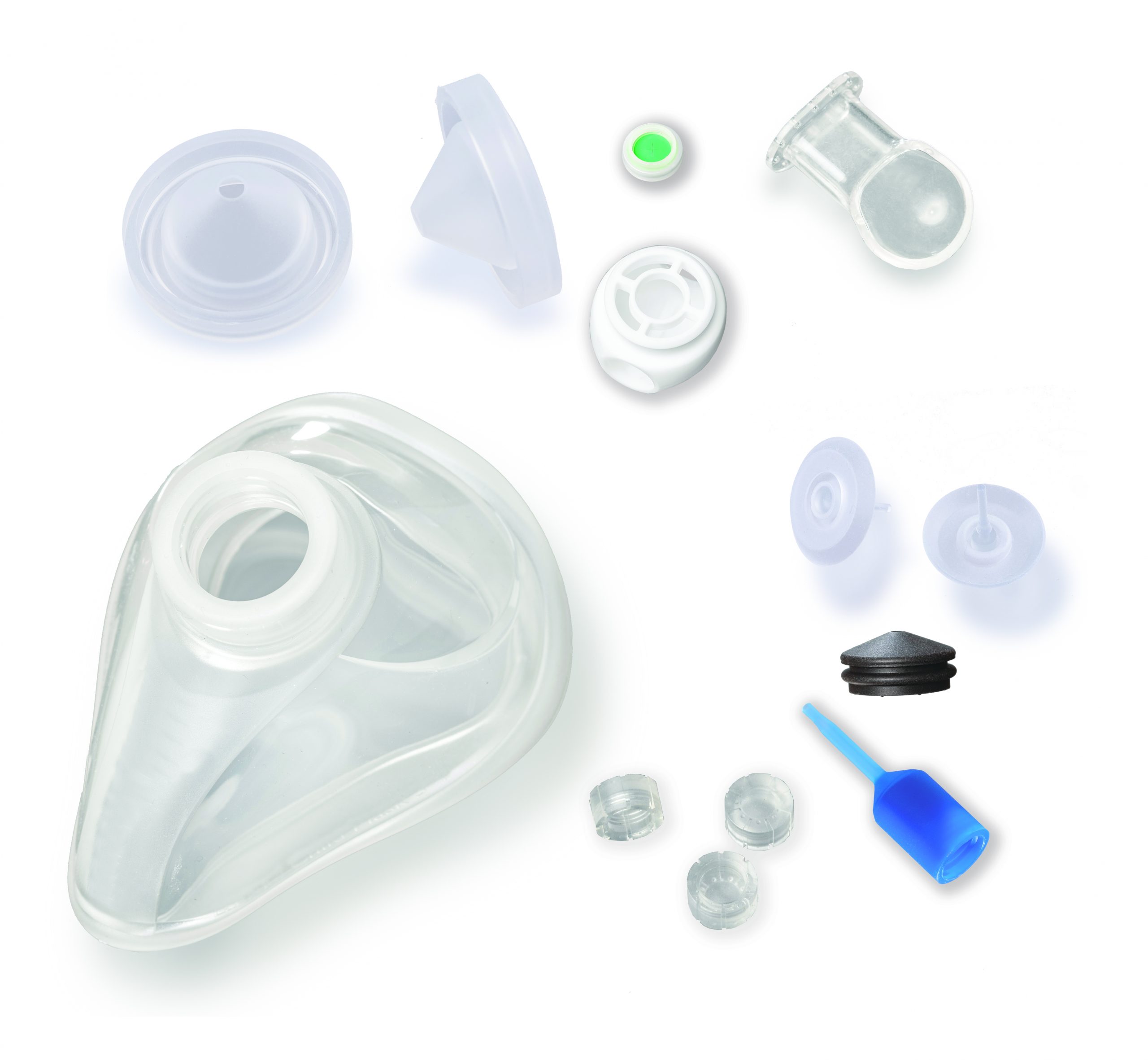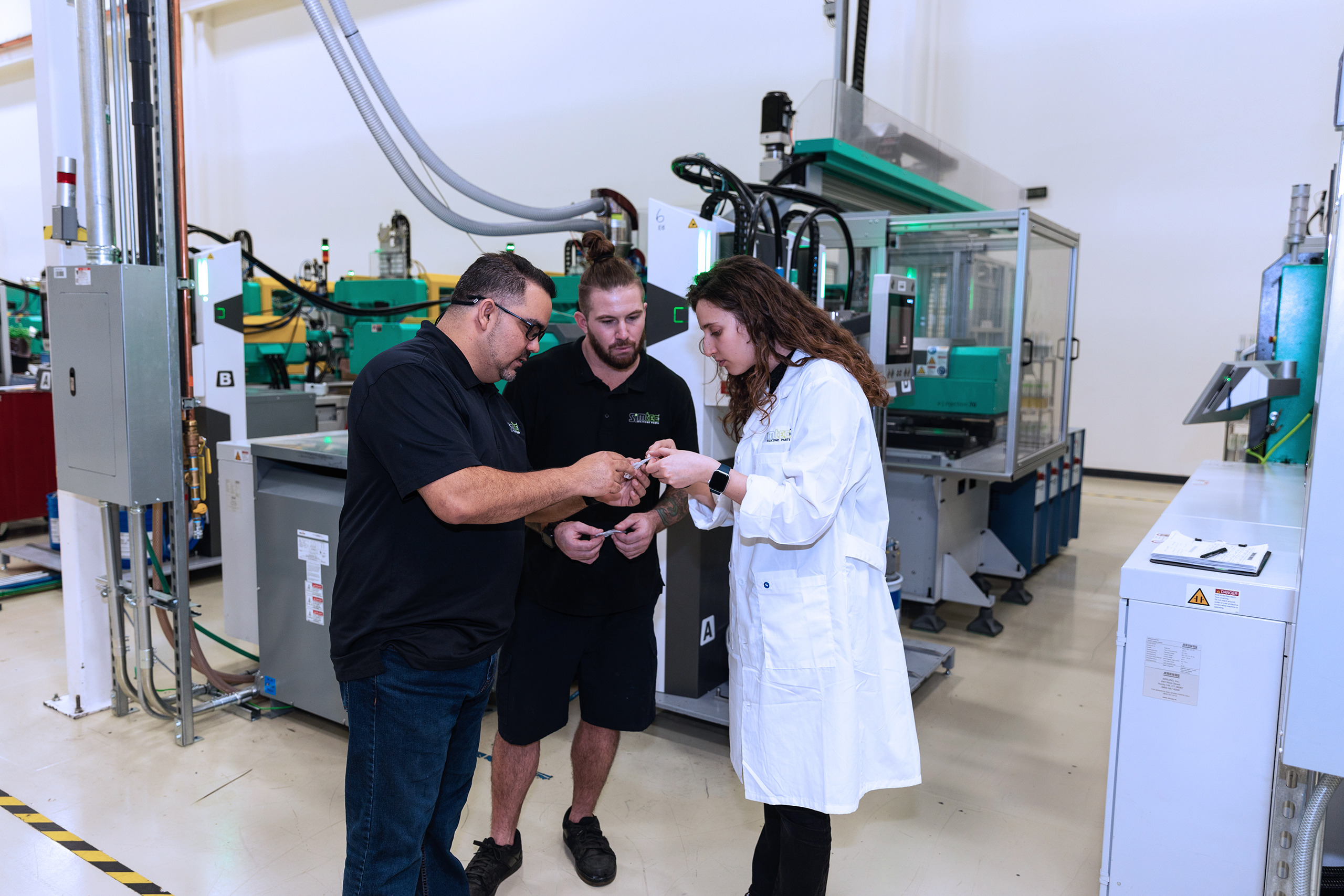 Our Quality Process
SIMTEC provides the exceptionally high-quality processes required for healthcare and medical device products.
SIMTEC is ISO 9001, ISO 13485, and IATF 16949 certified, and we boast one of the lowest defect rates in our industry.
SIMTEC's ISO-certified Class 8 cleanroom mitigates the risk of parts contamination from dust and other airborne particles, and meets the stringent ISO standards necessary for hygienic manufacturing.
With our focus on the highly customized production of injection-molded silicone medical parts, we tailor our QA processes.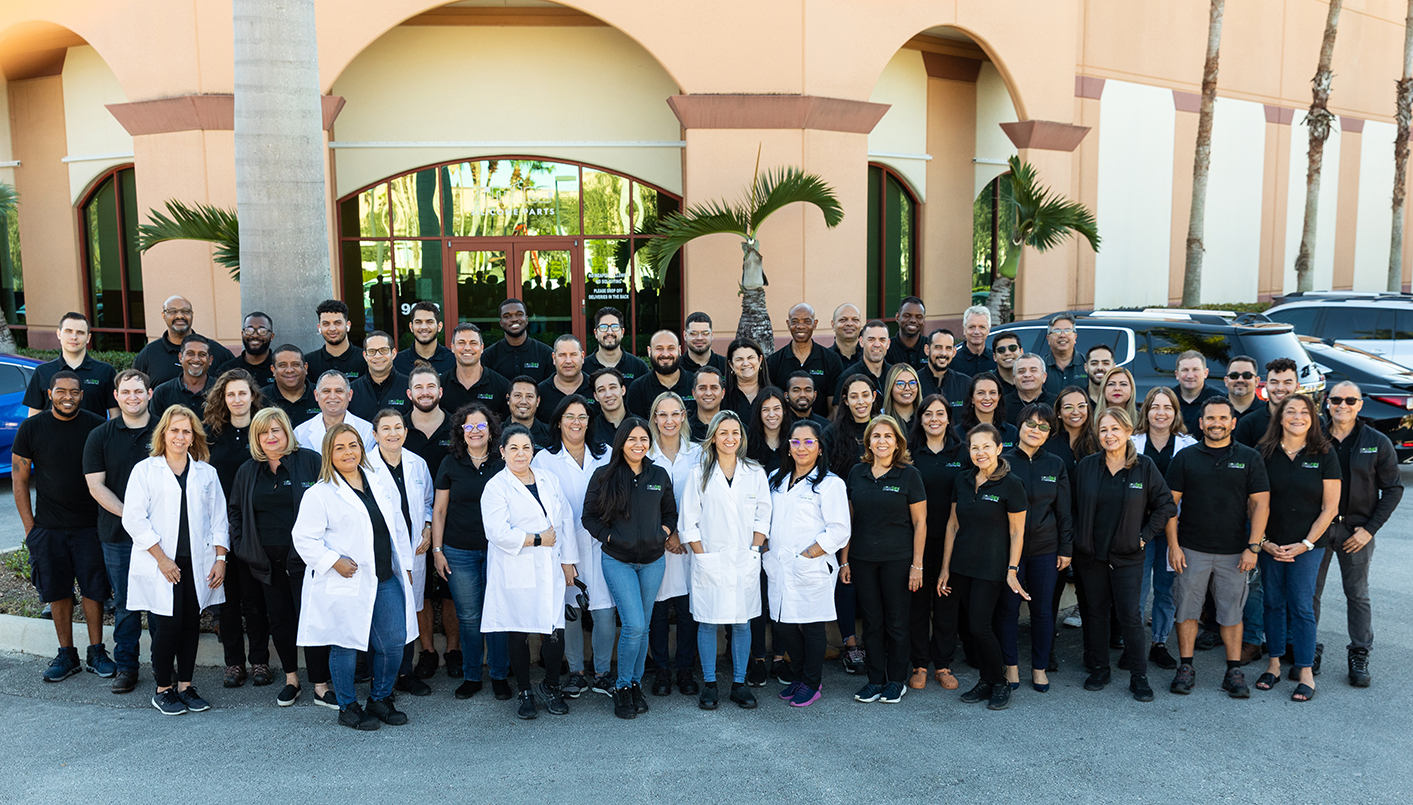 Contact SIMTEC to Discuss Your Project Today
Since 2002, SIMTEC has manufactured billions of custom silicone components of all sizes and complexities. Our high-capacity molds and fully-automated injection molding technology and class 8 clean room allow us to meet our customers high volume, hygienic production requirements. With our manufacturing facility and office headquarters in Miramar, Florida we are located minutes from all major transportation hubs, allowing us to facilitate the delivery of your parts to anywhere in the world.
In addition to silicone medical device injection molding, we also provide a full portfolio of value-added services including early design and prototyping support, high-capacity, class 101 molds, custom injection molded LSR, LSR multi-shot and LSR overmolded components, and a variety of secondary processes performed in-line for added precision and value.
One of our experts will be happy to discuss the specifics of your project in detail. Contact SIMTEC by phone or email to get started today.