GENERAL LSR MARKET STATISTICS AND HOW YOU CAN GAIN A BETTER INSIGHT
When you look at the estimated size of the LSR market and how it's grown over the past several years, you can gain a competitive advantage by seeing which products and parts are essential for the automotive industry. Knowing specific details regarding LSR will give you insight into what's in store for the future and how it can affect your business whether you are an OEM or first- or second-tier supplier.
According to Grand View Research, Inc., the LSR market revenue reached 1.5 billion in 2015 and 1.67 billion in 2016. From there, the revenue between 2016 and 2025 is expected to grow at a compound annual growth rate (CAGR) of about eight percent, reaching $3.29 billion by 2025. The market will see an increase in medical and electronic applications for companies around the world. Both markets have propelled the overall demand for the LSR market, and new developments in material continue to fuel LSR demand.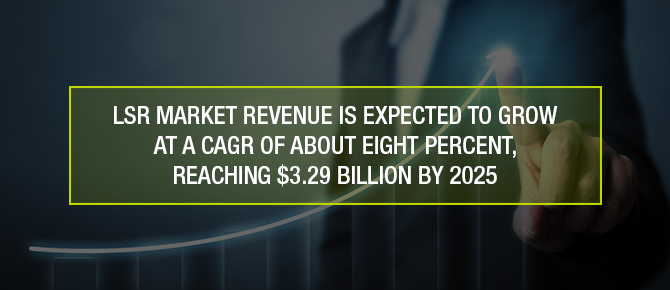 The LSR market is experiencing widespread research and development to create innovative technology and materials. Within the next several years, not only will the automotive industry experience growth opportunities with silicone grommets for example, but so will other markets such as medical, electronic and industrial.
In 2015, the industrial sector was the largest category at 53.5 percent while the auto industry included LSR applications such as wiper blades, LED headlights, automotive grommets and electrical components. Forecasted for the future, an estimated CAGR of about nine percent between 2016 and 2025 relates to medical applications which are the fastest growing segment.
AUTOMOTIVE RUBBER PARTS MARKET EXPECTATIONS YOU CAN USE TO YOUR ADVANTAGE
Along with the medical sector, the automotive industry is also emerging as a significant driver in the LSR market. LSR is in extraordinary demand because of its durable and cost-effective parts that can meet safety regulations and requirements.
Because of LSR's extensive list of advantages within the auto industry, leading companies such as Tesla, BMW, Honda and Mercedes-Benz use and rely on the technology to withstand extreme levels of heat as well as to resist electrical components and other factors. According to Grand View Research, Inc., automotive applications in 2015 generated about $519 million and is anticipated to grow at CAGR of about eight percent between 2016 and 2025.
Broken up into regional insights, Asia Pacific is growing faster compared to any other when it comes to LSR auto applications. Mostly led by China and India, the global market in automotive production is increasing because of the two regions' developing economies. New applications, product innovations and favorable regulations are expected to increase the LSR auto market growth.
Companies in the Asia Pacific region will be looking to expand their capabilities via acquisitions and joint ventures along with consistent quality and supply security for long-term use.
WHY CHOOSING SIMTEC LSR AND LSR 2-SHOT COMPONENTS ARE IDEAL FOR YOUR AUTO COMPANY
SIMTEC Silicone Parts can supply you with dozens of advantages compared to conventional rubber parts. The vulcanization method enhances our solutions, and our processes also allow for the design and manufacturing of various elements necessary for vehicles — especially under the hood.
With an innumerable number of benefits, LSR is also becoming prevalent the driverless car market. As the system operates and maneuvers on its own, it relies on liquid silicone rubber components for precise movements that can also withstand extreme temperatures and excessive movement.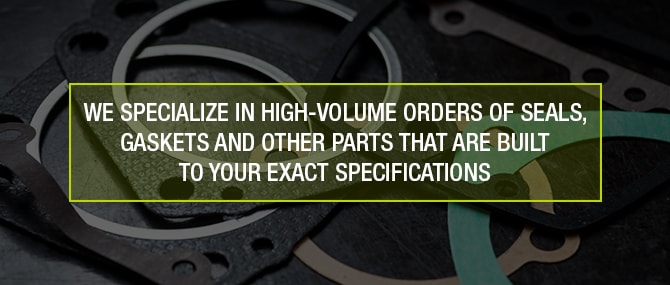 SIMTEC is a significant manufacturer of silicone automotive valves, O-rings, automotive grommets and dozens of other custom molded parts. We specialize in high-volume orders of seals, gaskets and others that are built to your exact specifications. Each part is made for high tolerances for cars and trucks.
We are a global expert in the LSR and the LSR 2-Shot injection process to form durable, temperature-resistant and flexible parts to meet industry standards. SIMTEC fulfills high-volume orders and collaborates with you to create the best solutions for your auto business.