Original equipment manufacturers, as well as first- and second-tier auto suppliers, rely on SIMTEC Silicone Parts for hundreds of components ranging from auto seals to silicone rubber grommets. We customize each mold to fit your requirements for high-volume orders no matter if you need gaskets or O-rings.
Compared to other processes, LSR molding from SIMTEC offers a vast number of benefits, which we will discuss in more detail later for automotive industry components, but a few example benefits include:
Thermal stability
Chemical resistance
Biocompatibility
Flexibility
Gas permeability
Low toxicity
Resistant to tears and stress
Take a look at the types of LSR components we manufacture for auto manufacturers:
MULTI-COMPONENT METAL OR PLASTIC TO LSR
All three of our processes — LSR, 2-Shot LSR and LSR overmolding — can integrate numerous materials and parts into a single component. As such, it either minimizes or eliminates additional assembly and reduces quality assurance costs.
During the LSR overmolding solution, we place metal or plastic into the LSR mold. It's overmolded with LSR, and depending on the type of materials, pretreatments may be necessary. As for the LSR 2-Shot process, at SIMTEC, we do not use a primer. The LSR is molded onto another thermoplastic component within the exact mold where we produced the plastic segment.
CUSTOM AUTOMOTIVE O-RINGS
The rubber O-ring manufacturing process can produce LSR parts used in many automotive systems — including engine cooling, transmission, brake and power steering. Any automotive system that has hydraulics and coolants can benefit from O-rings made from LSR.
The LSR injection molding process at SIMTEC creates automotive components that are durable, resistant to high temperatures and long-lasting. Resilient for the duration of the vehicle's lifetime, custom O-rings are ideal for high-volume manufacturing as well as for parts that are simple or complex.
HARNESS COMPONENTS
If you want your vehicles to function at optimal levels, you will need to invest in proper automotive rubber seals and automotive rubber grommets. Any car needs these vital parts — from housing seals and ring seals to inner grommets. At SIMTEC, by employing our LSR 2-Shot technology, we can manufacture all three components in a single silicone injection molding.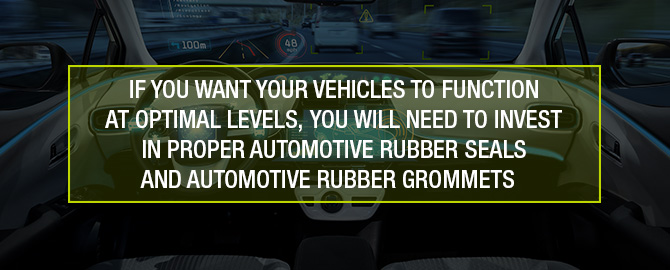 Results will ensure high-precision products and reduce assembly costs as opposed to creating each one individually.
SELF-LUBRICATING COMPONENTS
For components that are in constant motion, such as automotive O-rings, self-lubricating materials are perfect. Used for grommets, seals and gaskets where lubricity is necessary, LSR self-lubricating parts can improve slippage and reduce stick.
MEMBRANES: ANTI-DRAIN BACKFLOW VALVES
Silicone is an excellent material because it can withstand exposure to oil and harsh chemicals without its structure deteriorating. Because of this durability, it's an ideal option for backflow valves, which can be manufactured with uniform thickness.
With SIMTEC's LSR injection molding technology, our specialists can create pressure actuated parts that can be combined with others. By using the LSR 2-Shot process, we can improve the part's function and reduce or even eradicate extra assembly costs.
SPARK PLUG BOOTS
For all applications required for under the hood of your vehicles, our LSR spark plug boots can withstand high temperatures. With non-aging characteristics, SIMTEC spark plug boots are ideal, along with other applications in the engine.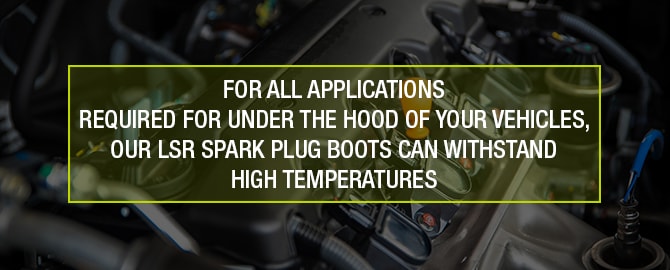 LIGHTED PANEL BUTTONS
By using LSR 2-Shot technology, SIMTEC can produce transparent, pliable and smooth buttons. If you need the buttons to transmit light, we can create and build one that combines the rigid plastic housing needed to protect the electrical component as well as the flexible rubber buttons.
WIRING HARNESS COMPONENTS
Automotive rubber seal suppliers rely on SIMTEC's self-lubricating LSRs to withstand high temperatures and to provide watertight seals. Whether you need single-wire, housing or rubber ring seals or even grommets, our products will last the lifetime of the car.
Automotive wiring grommets made using self-lubricating LSRs make them easier to assemble as well. Some LSR parts can be overmolded to another component, which will generate a tighter seal and eliminate extra steps in the assembly.
SOFT-TOUCH COMPONENTS
SIMTEC can design smooth, soft-touch components, such as consoles and other surfaces within automotive vehicles. Textured and ribbed surfaces are also possible — we can mold soft-touch silicone onto any plastic surface through a mechanical and chemical bond.
SEALS AND GASKETS
Automotive seals and gaskets made from our LSR technology offer many benefits because these flexible parts can maintain their properties when exposed to radiation and high levels of heat. Seals and gaskets made from LSR are highly reliable because of LSR's resistance to waxes, oils and coolant agents.
Because LSR components can endure extreme temperatures and maintain their properties over time, it's perfect for gaskets that are exposed to a range of temperatures. For example, high-temperature headlight gaskets made with the LSR process offer you tear and UV resistance.
Our LSR seal and gasket products will outperform alternative materials, and we can even incorporate them so that they are paired with other hard and soft components — all through using the LSR 2-Shot process.
BELLOWS AND PROTECTIVE CAPS
The LSR injection molding process works well for exterior and interior applications within the automotive industry because it can withstand extreme temperatures. For protective caps and bellows, consider manufacturing caps used for cable harnesses or the bellows used in suspensions with the LSR process.
DAMPERS AND NOISE REDUCTION FOLDS
LSR solutions are ideal for impact applications as well as resonance dampers. For example, air conditioner flaps decrease noise and can form better contact with rubber seals.