WHAT TO EXPECT WITH MEDICAL GRADE LIQUID SILICONE
Professionals in the medical field are always searching for the ultimate list of benefits for their company when designing medical grade silicone. Anywhere from reduced costs and extended product life to improved quality and the expectations of meeting stringent standards. Throughout time, it's proven to be a challenge to find the perfect material that can outperform current medical rubber on every level — until LSR came about.
Finding the right solution for your business requires diligent research to determine the best material selection and manufacturing process. You should consider factors like biocompatibility, regulations, and qualifications when forming silicone medical devices. Liquid silicone rubber gives you the freedom to select which durometer and other properties are the most appropriate characteristics for your application. The curing process with LSR turns it from a liquid to solid, and it remains that way, unlike other rubbers.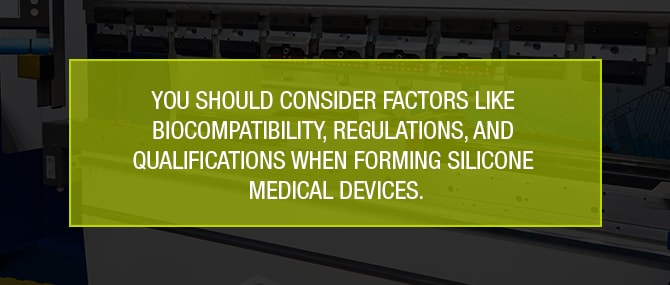 THE IMPORTANCE OF LSR IN THE MEDICAL INDUSTRY
The medical industry — whether a trauma-care setting or a regular doctor's office — makes stringent demands on medical grade silicone molding products because if the devices and tools don't perform as expected, serious consequences can result. SIMTEC Silicone Parts understands that these extraordinary regulations in the medical industry can help prevent problems, which is where liquid silicone rubber comes into play. Medical regulations exist because almost all materials will be in contact with human skin and living tissue, whether it's internal or external.

It's vital that neither the tissue nor the material affects one another, and it's been challenging to find a solution until LSR was introduced. Sterilization is another significant factor within the medical realm as well. It doesn't matter if you need a tool for one-time use or long-term. The sterilization process usually involves exposure to high heat. LSR can withstand temperatures that other materials cannot, so it can be sterilized to comply with health regulations across the board. Liquid silicone rubber can also survive chemicals and disinfectants.
SIMTEC LSR solutions will surpass your expectations and medical regulations for any instrument you require. It's vital to choose a material for your medical device that is compatible with the function of your equipment. Our solutions support specialty medical uses such as:
Cardiology
General, plastic, and bariatric
Neurosurgery
Oncology
Ophthalmology
Orthopedics
THE INCREDIBLE PERFORMANCE CHARACTERISTICS OF LSR
Your considerations involve making sure the material you choose is compatible with the functionality of your equipment. Liquid silicone rubber is a biocompatible material that reduces costs and is up to par with medical regulations. Several advantages of implementing LSR include its ability to withstand high heat and pressure as well as chemical exposure. Other features include:
Compression set
Fluid resistant
Hardness
Tensile strength
VARIOUS EXPOSURE CATEGORIES LIQUID SILICONE RUBBER CAN WITHSTAND
Unlike other rubber products such as latex, LSR is compatible with human tissue, whether it be for a short or extended period. Three types of exposure categories exist where the rubber solution can make a significant impact on the medical field.
Limited: Limited exposure is when an LSR product has brief contact with the body, coming in contact with skin, breached surfaces, or mucosal membranes for 24 hours or less.
Prolonged: Also known as healthcare grade, prolonged exposure has surface or implant contact between 24 hours and 30 days. LSR has been tested based on genotoxicity, hemolysis, toxicity, and histopathology.
Permanent: Permanent exposure means the liquid silicone rubber is a long-term implantable for prolonged use. It has gone through physiochemical and biological testing like chronic toxicity and carcinogenicity.
THE BENEFITS OF OUR SOLUTIONS FOR YOUR COMPANY
As mentioned before, SIMTEC knows every business searches for the best cost-saving solution to produce long-term products. When we engage our overmolding process, we can formulate high-volume productions for a streamlined process. With the reduction in costs, you can allocate saved money to other operations.
Liquid silicone rubber options are a great way to design branding techniques on your products. You can insert your company name, logo, or colors onto your solutions that have tight tolerances and closed parts. It's a way to enhance your image by placing your stamp on medical grade products anywhere from syringes and tubes to pull-rings and caps.
We also give you a competitive edge. It's imperative to keep up with the innovative nature of the medical field as it's always evolving with advanced technologies and higher expectations. When you rely on a material that can keep up with modern advancements like LSR from SIMTEC, you will see how our top degree of repeatability ensures consistent, precise, and accurate devices. You will have access to different blends of LSR characteristics and durometers to help you receive the best combination of materials and features for your specific requirements and applications.
Another way LSR can advance your company is that it can reduce production time which leads to less expensive material and assembly costs. Overmolding with a closed system is ideal for items that need handles. Instead of creating a new product, our LSR process eliminates certain steps like priming.

With our solutions, you add rubber only where it's needed to serve a functional purpose, so you aren't wasting time and materials on unnecessary processing. It's more economical, and we can even develop a prototype to make sure it's up to par with your standards before you commit to a high-volume order.