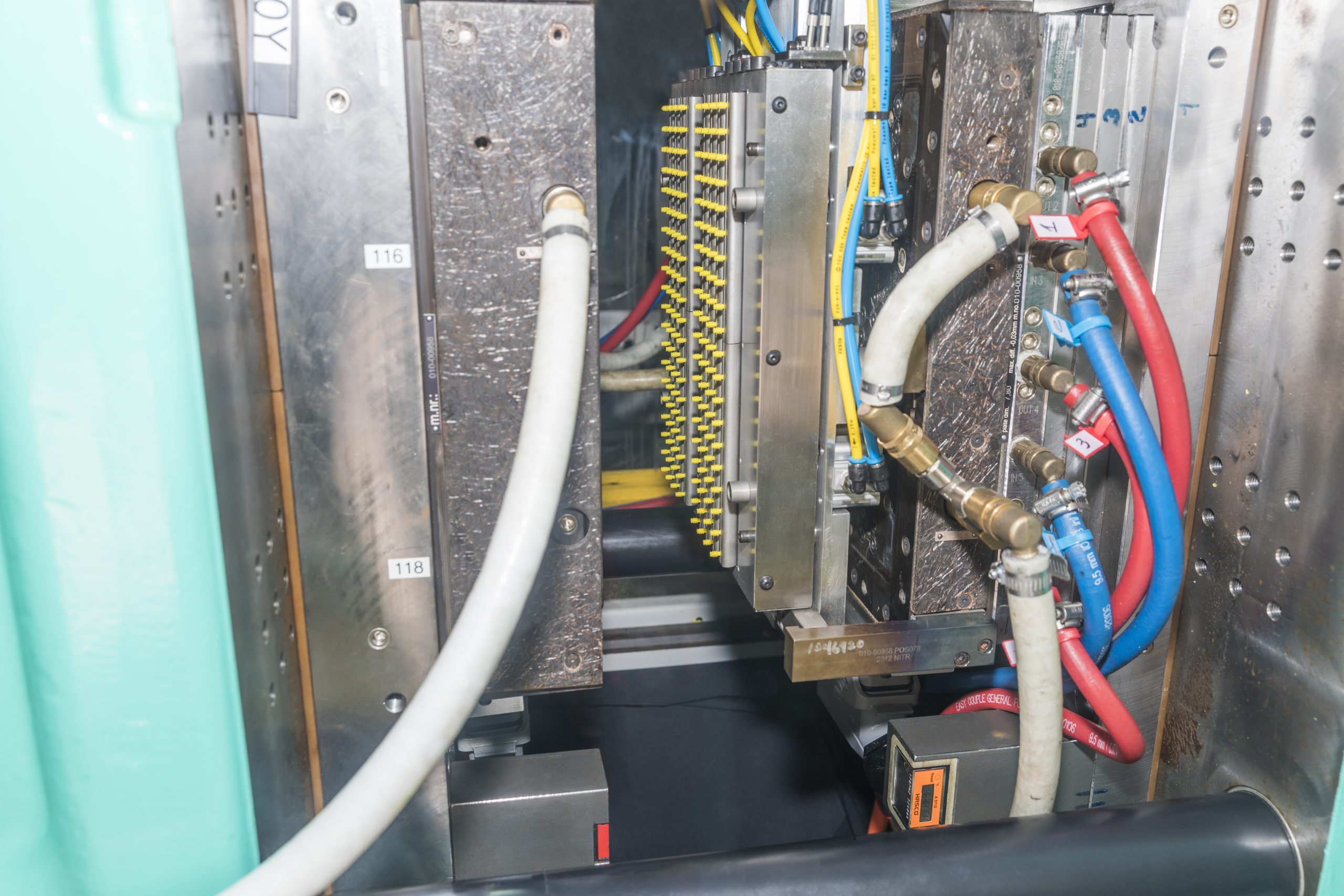 SIMTEC Silicone Parts has been producing precision LSR components using liquid injection molding for two decades.
Our facility in Miramar, FL (USA) is state-of-the-art and features lights-out capable, fully-automated liquid injection molding (LIM) cells with inline vision technology, value-added operations stations and finely tuned quality systems – all of which ensure we deliver high-quality, high-volume LSR parts to our customers.
Characteristics of LSR
Liquid silicone rubber is high-purity platinum cured silicone. LSR's physical, chemical and thermal properties make it highly suitable for products where performance, durability and high quality are a necessity.
Chemically Inert
Liquid silicone rubber does not react with alkali or acid chemical products and is also resistant to damage from water, oxidation, UV rays, ozone, and radiation
Hypoallergenic
Inherently hypoallergenic and non-toxic, LSR will not cause irritation or allergic reactions with contact, even in those with sensitive skin
Biocompatible
Liquid silicone rubber is odorless, does not have a taste and is Food and Drug Administration (FDA) compliant
Compression set
LSR parts will retain their shape when compressed
Range of Temperatures
Provides great stability in extreme hot and cold temperatures from -40 degrees F to -392 degrees F (-40 degrees C to 200 degrees C) for standard grades
Additionally, liquid silicone rubber allows for coloring or transparency in the finished product. Depending on their chemical composition, these materials can also serve as insulators or conductors.
LSR liquid injection molding is the preferred method for molding precision, delicate components. The process is clean and offers precision, accuracy, and high output. When combining the properties of LSR with the clean manufacturing process of liquid injection molding, the result is products that offer superior resilience and performance.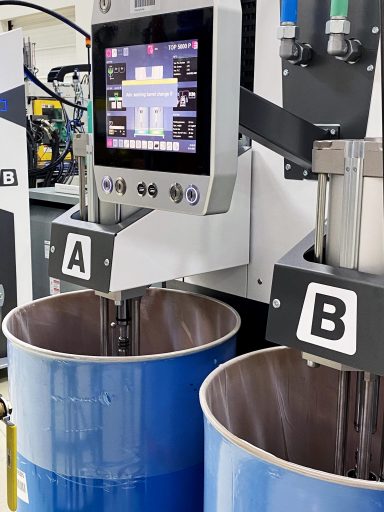 A Clean Manufacturing Process
Liquid silicone rubber (LSR) is a thick liquid polymer that uses a clean liquid injection molding process for producing LSR molded components.
LSRs used in the liquid injection molding process are two-part, platinum-cured polymers, the most stable. Platinum-cured LSR is received in 2 drums – A & B. When the A & B material components are pumped into the injection barrel of the molding machine, the materials combine and the vulcanization or curing process begins. If colored parts are desired, a third liquid with the color pigment is pumped into the barrel as well. The curing process is further accelerated when it is injected into the heated mold cavities where it solidifies and forms to the exact part geometry.
Benefits of SIMTEC's LSR Injection Molding
Molds & Automation Designed for High-Yield, Long-Term Production
SIMTEC's production molds are supplied by world-class mold supplier RICO Elastomere Projecting, our sister company. Designed and built for long-term, high volume automated production, our molds are high-cavitation class 101 molds, finely tuned for SIMTEC's advanced molding technology.
Advanced Molding Technology & Quality Assurance
SIMTEC's LSR, LSR multi-shot and LSR overmolding technology leads the industry in precision and quality.  We plan for quality at the onset and use the latest metrology technology and customized procedures to ensure quality throughout the process. Our molding process is tightly controlled, monitored and verified utilizing a range of processing and quality tools, including visual and dimensional part inspections and testing. Proprietary, customized in-line vision technology and cavity separation systems further ensure that only in-spec quality parts will arrive at our customers receiving docks.
Value-Added Operations
For secondary processes, SIMTEC takes a total systems approach, incorporating post-molding operations such as inline slitting, pad printing, and others, performed as a part of the molding process, immediately following the parts molding. The result is an efficient streamlined process, and a shortened supply chain that adds value for our customers.  Fully automated high capacity molds, LSR injection molding, inline secondary operations, and production lines running 24/7 deliver maximum output and help our customers' meet their cost and productivity objectives.
Capability to Produce a Wide Array of Part Geometries
With the combined benefits of LSR and the advantages of our advanced LSR liquid injection molding technology, we can accommodate a wide variety of part geometries, from simple to complex, small to miniature, in a single LSR material or multiple materials. Our knowledge and years of experience in LSR injection molding allows us to provide our customers with extraordinary solutions, day in and day out.
Partnering with SIMTEC for liquid silicone rubber injection molding allows your company to experience many benefits. Our class 101 molds, automation, LIM molding technology and expertise allow us to produce precision custom LSR value-added components in high volumes. 
As a leader and pioneer in the industry, we know LSRs and liquid injection molding (LIM) inside-and-out. Our production process is highly-automated, -stable, and –efficient, and perfectly designed for high-volume production of precision, small and tiny components.
Industries and Applications
Regardless of the industry, our liquid injection molding cells allow for the production of liquid silicone rubber parts or components that must withstand extreme conditions and make your products more effective. Industries and applications include:
Custom Solutions from SIMTEC
LSR Parts Production
SIMTEC offers several options for LSR part production. We carefully evaluate each project to determine the best LSR injection molding technology for producing the components: LSR, LSR two-shot, LSR multi-shot, or LSR overmolding.
Our state-of-the-art facility is climate-controlled and exceptionally clean. Our production areas are clean and because our LSR, LSR 2k, multi-shot and overmolding manufacturing cells are fully-automated, there is minimal human contact. 
Many medical products have strict cleanliness requirements requiring specific ISO-certified hygienic production requirements.  To meet these requirements, SIMTEC has an ISO class 8 cleanroom with both single-shot and two-shot LSR production lines where we also perform post-molding value-added processes. 
Production Capabilities
Single-shot molding: In this molding process, only one LSR material is used for injection molding parts.
Multi-shot molding: LSR is combined with two or more polymers or a polymer and substrate in this process for more complex components.
Overmolding: In overmolding, the liquid silicone rubber is molded around a substrate or finished component.
Micromolding: This injection molding process produces tiny, complex parts, typically with a shot weight of less than 1 gram.
Hygienic molding: LSR parts are produced in a clean, hygienic environment that are highly-controlled to various levels, such as white rooms or more stringent ISO cleanrooms with various classifications.
Post Molding: Value-Added Processes
SIMTEC offers customers a solution for post-molding operations that are required after the parts are molded.
Processes such as slitting, pad printing, and marking have traditionally been performed as a secondary, independent process by a second supplier.
SIMTEC offers its customers added value by performing these processes in-line, within the same process, immediately following the molding process.
Our automated process robotically delivers and precisely aligns parts into customized guides and fixtures for finishing production steps performed efficiently, reliably and consistently. As a result, SIMTEC customers enjoy high-yield production of finished parts, and time and cost advantages with a shortened supply chain. 
For your high-volume, long-term programs requiring LSR components, you can trust SIMTEC. We provide solutions for all phases of production, from support for designing and prototyping to its production. Our decades of combined experience, advanced process technologies, and robust quality systems elevate us to the top of the industry.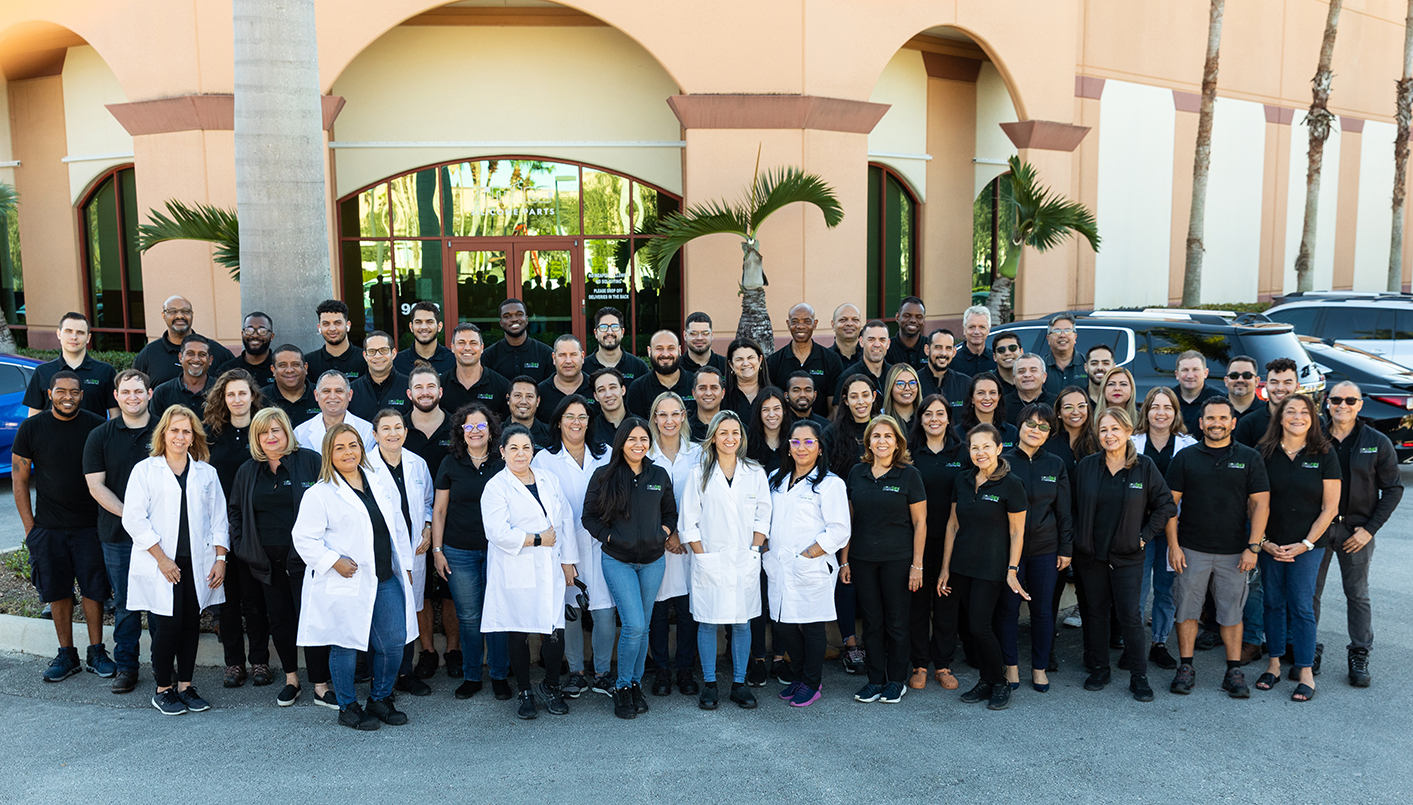 The production of custom LSR injection molded parts is our sole focus at SIMTEC. As a result, we bring a unique set of skills to the table that can benefit your business. Count on us for exceptional customer service that puts your needs first. SIMTEC is committed to 100% on-time delivery of your order and 100% customer satisfaction.
Our industry certifications include, ISO 9001, ISO 13485 and IATF 16949
To learn more about our LSR injection molding capabilities, or to discuss the details of your project with a team member and receive DFM feedback specific to your part and product requirements, contact us today.
Contact SIMTEC To Discuss Your Project Today
With design flexibility, advanced technology and exceptional quality, there's no better partner to manufacture your high volume Liquid Silicone components than SIMTEC. Contact us today to discuss your requirements.