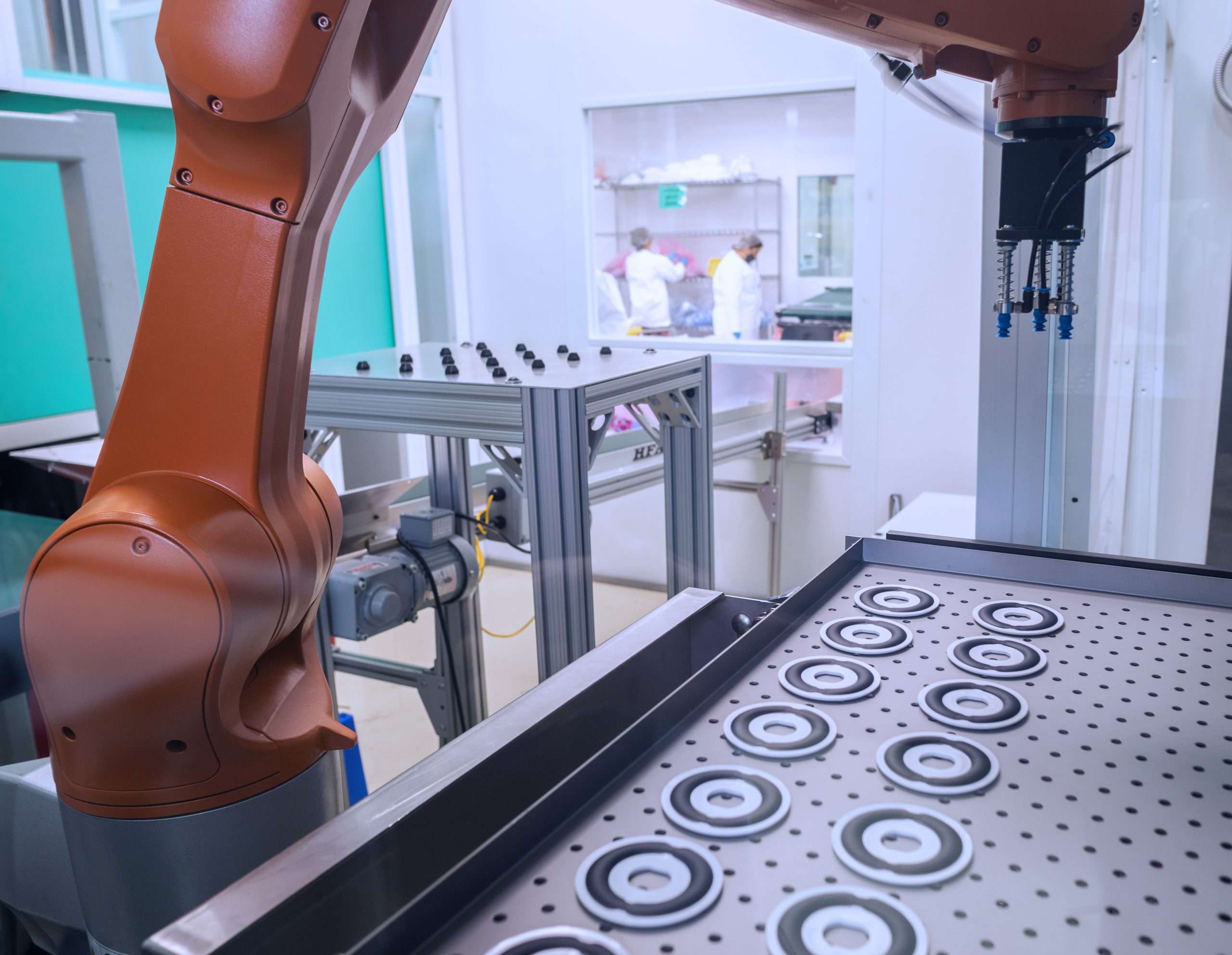 Value-Added Secondary Processes
At SIMTEC, we take a total systems approach from the onset, evaluating where we can optimize, streamline, and add value for our customers. For post-molding requirements, our experienced SIMTEC team look for ways to automate these operations and perform immediately after parts are removed from the mold for a cost-effective, efficient solution for our customers.
Custom-designed fixtures and automation align and secure parts for precision accuracy and consistency.
Post-Molding Value Added Operations Include:
Slitting: Performing a uniform and exact slitting operation can be challenging especially when LSR is the material due to its elasticity and flexibility characteristics. When slitting is performed as an independent operation using bowl-fed or other traditional equipment, defects and delays are common due to inconsistent alignment, downtime and lengthened supply chains. Additional costs may also be realized due to capital expenses for equipment and maintenance costs. SIMTEC's inline slitting solution however streamlines the process and adds value by automating and performing the slitting operation within the same process and manufacturing cell. The LSR parts are delivered to the slitting station directly upon removal from the mold, customized fixtures and parts handling ensure accurate alignment and positioning for precision, consistent slitting that meet our customers specifications, from the first part to the last.

Post Curing: LSR continues to cure after the parts are molded. This post-curing process creates a lasting chemical bond between multi-material components, enhances the compression set of LSR, and reduces the volatiles in the molded parts. To accelerate curing, a post-molding, post-curing process can be utilized. After molding, the LSR parts are placed in a special post-curing oven where heat is applied to accelerate the curing process. SIMTEC developed a customized, inline automated solution that incorporates post-curing the parts in a continuous oven immediately following the molding process and completely hands-free.
Laser Marking, Pad Printing, and Others: Whether its laser marking or pad printing, assembly or special packaging our team of experts will evaluate each project to provide an innovative and efficient solution that will meet our customers specifications, add value, and meet our SIMTEC high quality standards.
Inline Value-Added Secondary Processes
Post-molding operations such as laser marking, printing, slitting, assembly, post-curing and packaging are just a few examples of processes that traditionally have been performed on molded components as independent operations and can involve multiple suppliers. However this methodology can add time, cost and increase the potential for errors and defects.
Contact SIMTEC To Discuss Your Project Today
With design flexibility, advanced technology and exceptional quality, there's no better partner to manufacture your high volume Liquid Silicone components than SIMTEC. Contact us today to discuss your requirements.