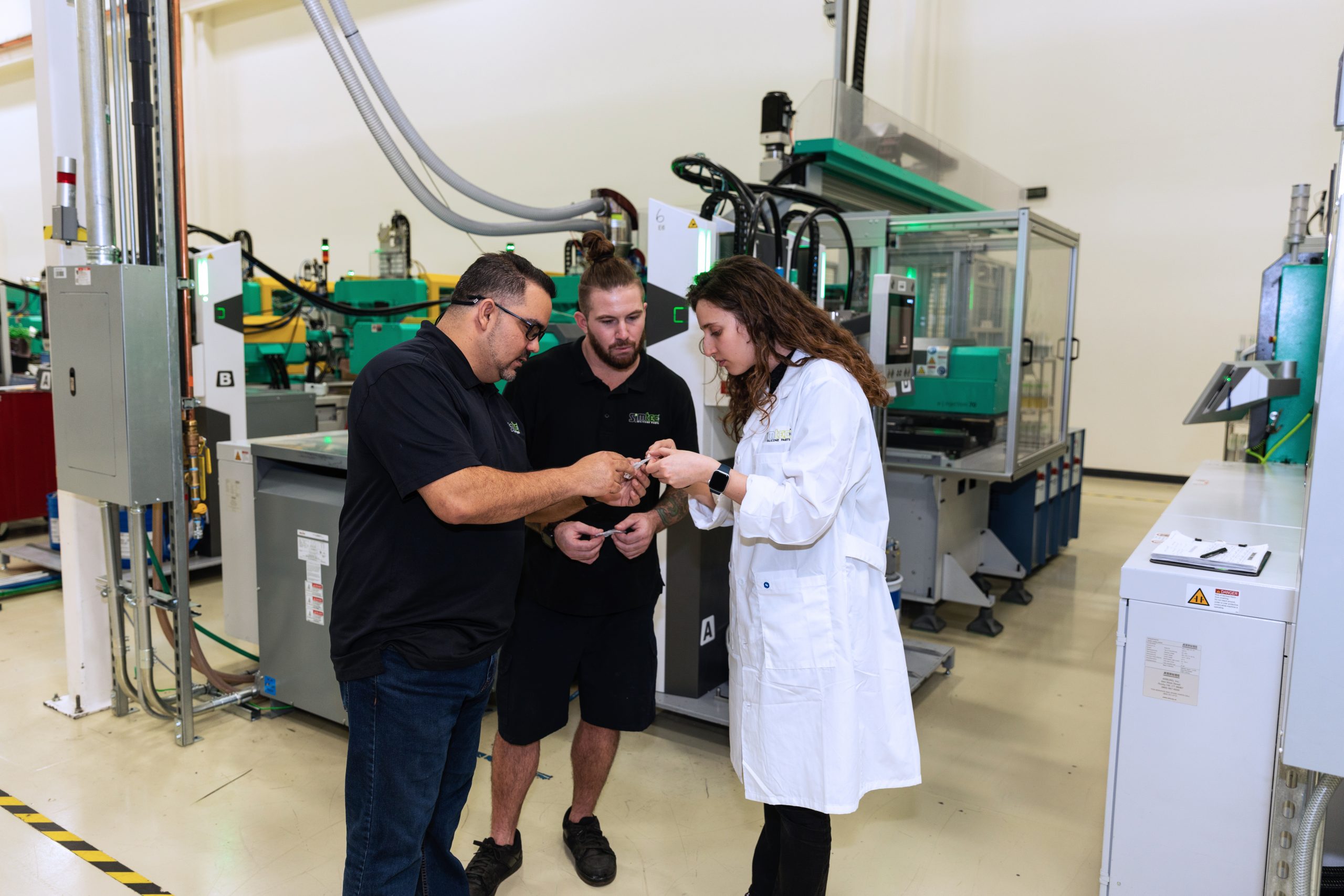 LSR Custom Components: Extraordinary Solutions
SIMTEC offers complete turnkey solutions for any business in need of high performance liquid silicone rubber (LSR) injection molded parts. We can help you choose the right material for your upcoming project, as well as provide you with tooling solutions that are best for your ongoing production needs.
Before production, our expert engineers will provide you with a detailed set of specifications for review. During production, your components will undergo our rigorous quality assurance process, ensuring manufacturing at the highest possible standards. In fact, we are able to boast one of the lowest defect rates in the industry. Lastly, we will develop the optimal packaging solution to keep your shipping and transportation costs as low as possible.
SIMTEC's Full Portfolio of Services
SIMTEC is an environmentally responsible silicone company exclusively focused on the production of customized injection molded Liquid Silicone Rubber (LSR) parts, LSR overmolded parts, and LSR 2-Shot (LSR/Thermoplastics) and Multi-Shot components. Our team of experts has decades of knowledge and experience injection molding LSR.  We provide greater value to our partners by providing a full portfolio of services from early design and prototype support to customized manufacturing processes and quality systems to provide custom solutions that address the specific needs of each program and that deliver high-precision, high-volume, and high-quality Liquid Silicone Rubber and LSR Multi-Shot molded components.
View Our Capabilities
View Our Capabilities
Why Choose Liquid Silicone Rubber?
Liquid Silicone Rubber (LSR) is a versatile and economical choice for a wide range of silicone molded parts. Odorless, tasteless and hypoallergenic, it is the ideal raw material for devices intended for use in a sterile environment. LSR is also fatigue and tear resistant and features a low compression set, high elongation, and high thermal stability. As a result, it can be used in any state in which exceptional durability is required, and is available in medical, food contact, and high thermal conductivity grades
SIMTEC's advanced liquid silicone injection molding capabilities allow us to manufacture liquid silicone rubber parts for your company's needs with an  infinite variety of  confiurations, sizes, colors, and part geometries. To discuss the details of an upcoming project, please contact our office to speak with a representative directly.
SIMTEC Silicone Parts: LSR Injection Molding
Since 2002, SIMTEC Silicone Parts has been a valued partner to Fortune 100 companies and other leading global businesses in the design and manufacturing of custom, high-quality Liquid Silicone Rubber (LSR), LSR 2-Shot (LSR/Thermoplastics), and LSR Multi-Shot (LSR/Thermoplastic/Metal) parts. SIMTEC serves an array of industries as a silicone products manufacturer, including but not limited to automotive components, consumer products and hygienic medical devices and life science products
As one of the top custom silicone component manufacturing companies in North America, meeting the needs of our customers in these and other industries has been our primary focus since the founding of our company. When you work with us for an upcoming project, you are partnering with a team that is committed to providing and maintaining the highest standards of quality and delivering exceptional value.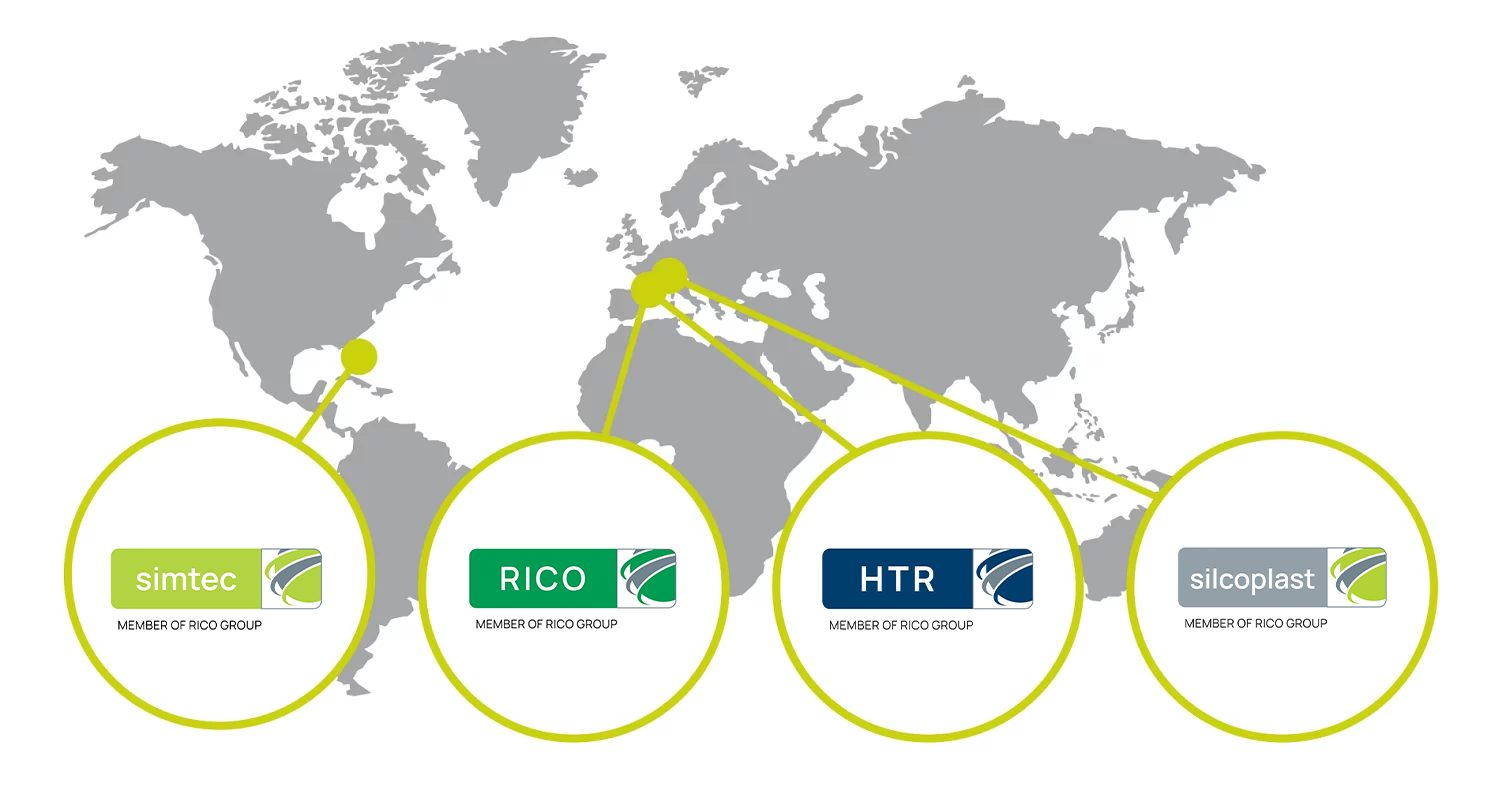 Global Supplier of Silicone Injection Molded Products
SIMTEC's highly-automated, efficient silicone component manufacturing capabilities allow us to maximize output and fulfill our customers' needs for high volume custom silicone injection molded parts. Based in Miramar, FL we are conveniently located near South Florida's international transportation hubs, for fast delivery to any location. To learn more or discuss your product requirements, please contact our office by phone or by email.
Contact Us