Every product that has ever hit store shelves began life as an idea. As the idea matures, it passes through a series of stages that transform the concept into a fully functional and marketable product that fulfills a need or achieves a goal.
While finalizing and releasing the fully developed product is the ultimate objective, successfully taking your idea from concept to completion is a detailed process. If your goal is to bring your idea to life and introduce it into the marketplace, you'll need to create a prototype first.
WHAT IS A PROTOTYPE, AND WHY SHOULD I CREATE ONE?
We can define "prototype" in a general sense as an original model that serves as a template for a product. Essentially, a prototype proves your concept can exist as a physical, functioning product. Blueprints, sketches or mockups of an idea are great tools to begin to explain the design, but a physical prototype offers an individual the opportunity to experience it.
Perhaps you have a simple, easy-to-construct idea, or maybe you have a complex concept in mind that you can fully understand, design and create. If you believe you can readily turn your thought into a tangible object, you may wonder why a prototype is necessary for success. While a prototype may accurately represent all the knowledge and skill behind the concept, it also acts as a vehicle for discovery.
You develop a prototype not only to demonstrate what you know, but also to uncover any obstacles, complications or flaws you haven't yet encountered. Every concept has limitations and opportunities for improvement that do not get exposed until the product enters creation. Crafting a prototype is a necessary step in the production process that allows you to unearth the true scope of the concept, uncover the information necessary to improve the idea and make crucial updates to the concept that positively impact the success of the final product.
BENEFITS OF PROTOTYPES
Creating a product prototype is a responsible step in the production process that can benefit the long-term success of your product. A prototype brings your vision to life for the first time and allows you to expand upon your concept creatively. There are many advantages to crafting a prototype in the early stages of production.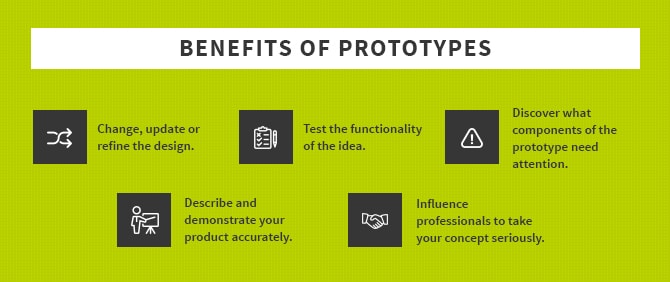 TYPES OF PROTOTYPES
The type of prototype you choose to create is important to the success of a product. You want a prototype that accurately represents the actual product in appearance and function. The closer your prototype reflects the product, the easier your audience will be able to grasp the concept and correctly use the product. Depending on the size, complexity, materials and real-world application of the product, you may need to select a specific prototype that can represent the product's design and functionality sufficiently.

The following prototypes have inherent advantages that make them ideal for capturing the essence of a concept, portraying the potential of the product or executing the functions of the actual product.
WHAT TO CONSIDER FOR YOUR PROTOTYPE

As you determine which type of prototype would best reflect your concept, you must also be aware of other factors that will influence the production and success of the prototype.
You can begin to determine which type of prototype will accurately depict your concept by applying these questions to each prototype form. For instance, if you choose to design a scale model or evolutionary prototype, you'll need to be aware of how much time and financing it will take to modify the existing prototype as your needs change.
HOW TO CREATE A PRODUCT PROTOTYPE
Creating a prototype is an essential step in the process of developing a product. Some of the most iconic products around the globe began as simple prototypes. Many of these prototypes have evolved into products in use throughout countless homes and businesses. With patience, dedication and hard work, you can bring your idea from concept to creation by developing a viable prototype. The steps below outline how to make a product prototype.
Creating a viable prototype can be a challenging process. Whether you have already created an initial version of a prototype, or if you've got a well-developed concept you want to bring to life, a professional manufacturing service specializing in prototype creation will help you complete your vision. The experienced team at SIMTEC can help you choose the right materials for your prototype and provide you with solutions for your ongoing production needs.
SIMTEC PROTOTYPE MANUFACTURING
For nearly 20 years, SIMTEC has offered complete turnkey solutions to leading global businesses that are in need of custom, high-quality liquid silicone rubber and LSR 2-Shot parts. From consumer and automotive parts to medical devices, we've supplied a variety of industries with highly versatile injection-molded LSR components. Liquid silicone rubber is the ideal material for prototype creation due to its extreme durability, temperature and chemical resistance, flexibility and biocompatibility. No matter the application, liquid silicone rubber parts can perform optimally.

SIMTEC is proud to offer prototyping services to our customers who are seeking reliable parts and components for their latest creations. Throughout the design and prototyping process, we work closely with our customers to ensure we manufacture each part according to their exact design. The final result is a perfect and precise LSR component that is efficient and cost-effective. As one of the top liquid silicone rubber injection molding companies in the world, we guarantee we'll always provide our customers with unparalleled service and complete satisfaction.
You need to create a product prototype that is functional, durable and presentable. SIMTEC has mastered the liquid silicone rubber injection molding process, and can manufacture custom-designed LSR parts tailored to your prototype. We address the needs of your specific project and provide you with the knowledge, assistance and guidance you need to take your idea from concept through prototype development. If you're ready to bring your prototype to life, contact us today.
With a commitment to customer service, a dedication to quick cycle times with quality results and scalability from a single prototype to high-volume production runs, SIMTEC can make your vision a reality.