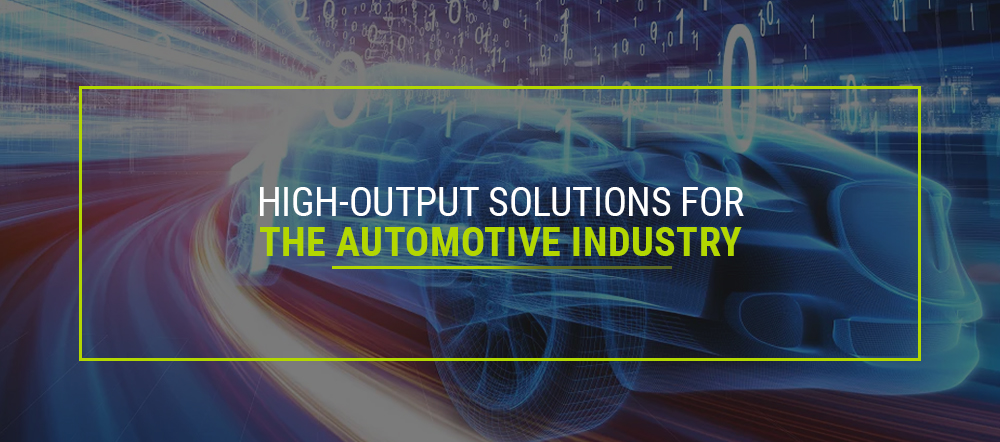 SIMTEC's highly productive LSR technology coupled with LSR's material properties are a perfect fit for the challenges of the automotive industry.
Benefits of Using LSR in the Automotive Industry
LSR (Liquid Silicone Rubber) offers excellent performance characteristics and qualities that are superior to many other materials, making it a great choice for a wide range of automotive applications. While there are many benefits, the following are the top four LSR advantages that are most important for automotive applications.
Temperature: LSR has high thermal stability and can withstand extreme temperatures, both hot and cold, ranging from -58 to 392 degrees F. With its broad operating temperature ranges, LSR is ideal for automotive applications. It can withstand and resist change when near engine heat, electric drives or elements exposed to friction and more.
Compression set: LSR offers superior compression set in various degrees compared to most other materials. Because it resets after compression and maintains its properties over time, it allows better sealing of critical connections, such as data for sensors, or power for drives and safety in daily operations.
Chemical resistance: LSR is resistant to oxidation as well as water and several chemical solutions, including alkali, making it a good choice for grommets, seals, sensors, spark plug boots, O-rings, and more parts that are used throughout the automobile. They must withstand repeated exposure to harsh environmental conditions such as sun radiation, road salt, and chemical solutions used in the vehicle's engine.
Clarity: Depending on the polish used in the injection mold or the LSR grade, LSR offers various degrees of clarity for use in a variety of optical applications.
LSR Single-Shot, 2-Shot, Multi-Shot, and LSR Over-Molding
SIMTEC's injection molding technology includes three types of molding techniques, each with its unique advantages and suitability based on a component's function and requirements.
1. Single-Shot LSR
LSR single-shot injection molding utilizes LSR that is injected into a mold to produce LSR molded parts. SIMTEC's manufacturing units are closed loop systems that are technology-driven, fully automated systems from raw material to molding, to automated parts removal and packing – all finely-tuned, and highly efficient for maximum productivity.
The injection molding process mixes two components of basically the same LSR material: the first contains the crosslinker and the second the catalyst. The mixing of the components begins the vulcanization process and it is accelerated when heat is applied in the mold.
Single-shot LSR is ideal for high-volume connector seals, grommets, O-rings and other single-material automotive parts. It is an extremely cost-effective solution for automotive OEMs with long-term programs.
2. LSR 2-Shot and Multi-Shot Injection Molding
Two-shot LSR molding entails molding LSR and another material in the same process. The other material can be a different grade of LSR or a compatible engineered thermoplastic material. Multi-shot injection molding uses more than two materials.
SIMTEC's 2-shot molding process combines the production and integration of two components of different materials molded within the same press with two injection units to produce a versatile two-material component with a chemical bonding. With 2-shot, the bonding and dimensional stability of the parts are superior because the parts are individually molded and immediately combined in a cavity-to-cavity designation allowing optimization of the LSR side of the mold to the thermoplastic side.
In a 2-shot or multi-shot process, when more than one material is being molded, the material with the lowest melting point injects first. The first material is injected into the mold, then the second or third materials are added in the respective LSR cavities. The result is an integrated component with multiple characteristics, and types of functionality. A 2-shot or multi-shot component eliminates the need, costs and time needed for secondary steps (such as assembly), offers a material savings (delicate seals) and secure placement. Product designers are also able to design components with complex part geometries for enhanced performance and part weight optimization.
3. Over-Molding
The LSR over-molding process entails injection molding LSR over or around a thermoplastic component or metal substrate. In SIMTEC's over-molding process, a plastic or metal object is robotically placed in the mold and the LSR is molded around the component. Over-molding enables the use of non-plastic substrates such as steel to be integrated within an LSR molded part. Benefits of LSR over-molding include reliable joining of two substrates, good component alignment, and savings in assembly operations.
Automotive Liquid Injection Molding Applications and SIMTEC
SIMTEC Silicone Parts can provide solutions that satisfy stringent automotive requirements. Major Tier 1 and Tier 2 automotive suppliers rely on SIMTEC's innovative LIM (Liquid Injection Molding) expertise and productivity for programs involving single-shot, two-shot & multi-shot LSR injection molded components.
Auto applications include:
Connector seals used in wire harnesses throughout the vehicle including LSR single wire seals, grommets, and LSR 2-shot sealed connectors
Comfort and driving assistance parts like housings and seals for proximity sensors, key fob membranes, and dampeners in the climate control system
Engine and powertrain components such as spark plug boots, power-frame sealing, gaskets, and ignition components
Sealing solutions for electrical and high-speed data connectors
Interior cushioning and vibration applications
Lighting, such as LED diffusers, and headlight gaskets and seals
Trends in the Automotive Industry
With the emergence and increasing electrification of vehicles, artificial intelligence and autonomous technology requirements, SIMTEC's advanced LSR single-shot, two-shot, multi-shot and over-molding technology are perfectly suited. Emerging trends in the auto industry include:
E-mobility: For cars that have an electric-powered drivetrain, SIMTEC offers custom sealing solutions, including 2-shot housings with seals, LSR covers to protect electrics and electronics from their harsh environmental surroundings.
Autonomous driving: Sensors are integral components in autonomous driving technology playing a key role in the development of autonomous cars. These sensors need to be sealed i.e. protected from the elements. In addition to sensor seals and housings, other applications include grommets, covers, and more. Driverless cars require the reliability, safety, and comfort SIMTEC LSR parts offer.
Comfort and driver assistance: Comfort and safety features used by automakers in their models is widespread, from sensors for temperature and humidity, to pressure, position and speed; there are also more power–assisted/driven seating features, storage features, as well as more safety, displays, and entertainment systems increasing the need for LSR components. In addition to LSR's longevity and performance benefits, SIMTEC's high-volume output can offer overall cost savings that are key for automotive programs. LSR sealing, vibration dampening and cushioning components on the exterior and in the interior contribute to the comfort and heightened ergonomics that play a large role in driver experience.
Typical Automotive Products That Can Be Made of LSR
SIMTEC manufactures a multitude of automobile components used in a variety of applications. Our strategies for every product come from our decades of experience and knowledge, each customized to meet our customers' unique requirements for use in interior and exterior mechanisms throughout the vehicle.
1. Single-Wire Seals
SIMTEC uses oil-bleeding, or self-lubricating LSR grades for our customers' improved assembly for custom single-wire seals produced for the auto industry. The rubber forms an oily film on the surface of parts, proving helpful during assembly. Self-lubricating LSRs also improve the hydrophobic behavior of the seal.
With an ID critical design in place to avoid insulation damage when in use, our tooling strategy includes three platens. The cavities are a hollow space in the mold in which the uncured liquid silicone rubber is shaped and vulcanized. Platens, which align close to the mold, have settings for the temperature, pressure, injection rate, and cycle-time. We also have SIMTEC base molds available.
SIMTEC's high output production with up to 256 cavities, depending on the size and configuration of the component, offers high efficiency and productivity, and a highly competitive supply. Utilizing an open nozzle design increases the longevity of the tool and requires minimal tool maintenance. With an open nozzle design, the parts are gated directly, there is no sprue. A sprue is the initial entry point of a material into a mold. Because there is no sprue, there is less material and zero material waste. A sprue also can cause marks, often elevated, on the surface of the molded part, known as flash. So, in addition to the material savings, by eliminating the sprue, a source of flash is also therefore eliminated as is the need for de-burring after molding.
Our customers enjoy consistent quality, high-performance single wire seals that allow for efficient smooth automated assembly.
2. Two-Shot Connectors with Radial Seals
Connectors with radial seals are used in automobile engines. Using our two-shot molding technology, the LSR radial seal and glass-filled plastic connector body are molded in the same mold and molding machine for secure placement and bonding. The plastic connector body serves as an insulator in electrical and electronics applications. The LSR radial seals positioned on the inside of the connector ensure a secure mating. Depending on the specific part design, quantities, and complexity, a 2-shot transfer tool with slides or a rotary table is typically utilized.
Advantages of 2-shot connectors with radial seals include excellent bonding and a perfect fitting seal with no leakage. Both LSR and select engineered plastic materials perform well in high-heat environments, proving ideal for use near engines. Since the radial seals are molded into the connectors as one component it requires quality inspections of only one component vs. multiple parts. In addition, it eliminates the cost and time associated with secondary assembly and prevents rollover and displaced seals in the final product that can occur with loose piece seals that can cause failure and be very costly for the automotive OEM to fix or replace once they are installed in the vehicle.
3. Two-Shot Connectors with Peripheral Seals
Using self-adhesive LSR with glass-filled plastic materials, the LSR peripheral seal resides on the connector. Using a 2-shot tooling strategy, SIMTEC's consistent-quality LSR peripheral seals are precision molded (i.e. tight tolerance of 0.1 mm) using fully-automated, advanced technology and years of experience in 2-shot LSR molding. As with all 2-shot sealed connectors, the 2-shot, 2-component integration prevents seal rollover and displacement during customer assembly or in the final product, and eliminates the need for secondary operations.
4. Mat Seals
Mat seals are used with electrical connectors and designed with individual wire openings. The mat seal securely retains the wiring and provides strain relief during wire crimp and assembly, and protects the connections from the elements like water and heat. Oil-bleeding LSRs are chosen for their resistance to water and extreme temperatures and improved ease of assembly by SIMTEC's customers. Depending on the size and production capacity requirements, molds are designed with up to 64 cavities or may be suited for utilization of SIMTEC base molds. Interchangeable core pins and inserts for round or square terminals offer additional design flexibility. Liquid injection molding allows reducing scrap commonly found with other technologies and eliminates secondary operations such as die cutting.
5. Two-Shot Components with Flange Seals
An example of an automotive application utilizing an integrated flange seal is a 2-shot thermoplastic screw coupling with LSR flange seal used in a mechanism for aligning and maintaining the height for car hatches and trunks. In this application, an unscrewing core is used to produce the internal threads, and, depending on specific part geometry and production capacity requirements, can have between four to 16 cavities. Whenever possible, SIMTEC uses a direct gate to eliminate the sprue, reducing material cost and eliminating elevated marks/flash on the surface of the molded part. Because the seal is integrated with the plastic component in the two-shot processing and direct gating tool design, post-molding secondary steps (assembly) are eliminated and the seal remains securely in place during tightening.
6. Ring Seals
Ring seals are used with automotive connectors to protect the electrical connections from the environment – water, heat, and other elements. Ring seals also typically call for oil-bleeding LSRs to provide better assembly for our customers.
Designed by our team of experts, ring seal molds can have up to 128 cavities depending on the part design and size, and production requirements, and can use an open nozzle or valve gate. In some cases, use of available SIMTEC base molds may be appropriate.
7. Two-Shot Dual Seal Connectors
Dual seal LSR/plastic connectors are used as a ring seal in firewalls. The dual seal connectors are designed with two seals for dual protection. When involved early in a program, SIMTEC has the opportunity to lend its expertise, suggesting part design modifications for optimizing manufacturing, especially valuable for multi-faceted, intricate 2-shot, dual sealing connectors. The LSR seals are located on the inside diameter (ID) to protect the wiring, and on the outside diameter (OD) to seal the connection.
The tooling can be designed for anywhere between four and 32 cavities depending on the molding machine and desired production capacity. The mold can be designed to use various interchangeable inserts to produce parts of varying diameters. A special coding system allowing for "poka-yoke" can be used to assist equipment operators in readily distinguishing between parts of different diameters, preventing costly mistakes and eliminating downstream product defects.
8. Sensor Cover Assembly
There are an estimated 12-30 sensors used in a vehicle. Many of these sensors (i.e. proximity, blind spot, etc.) must be protected from environmental elements. 2-shot sensor covers, molded in self-adhesive LSR and glass-filled plastic, and a mating LSR plug used in proximity sensor assemblies, function to protect the sensor from the environment (mud, heat, cold, water, and more). The mold cavitation ranges from four to 128 cavities for the single shot LSR plug, and for the 2-shot cover anywhere between a 4+4 cavity to a 96+96 cavity for the LSR 2-shot mold. For parts with thin part geometries, SIMTEC utilizes a specially designed mini-valve gate system.
9. Sealing Cover
With the booming use of electronics resulting from E-mobility trends, LSR covers are used to seal and protect electronics from exposure to its surroundings. One use of an LSR cover for electronics is used in the vehicle-side charging handle for an electric vehicle. A standard 50 durometer grade LSR offers protection, longevity and performs well in extreme temperature ranges. In an application where the part is small and if the production requirements are moderate, the right solution may be to build tool inserts and run in a SIMTEC mold base, offering the customer reduced tooling time and costs. In addition, an open-nozzle gating system requires low maintenance and provides flash-less parts. SIMTEC provides customized LSR solutions to best meet the needs of its customers' specific requirements.
10. Cushions
LSR cushions are used in a variety of interior applications due to their cushioning and noise dampening attributes, and excellent performance in extreme temperatures. For a major automotive Tier 1 manufacturer, SIMTEC devised a custom solution to produce various-sized LSR cushions used in interior A/C vents. The tooling strategy best suited a mold with a dual nozzle system filling two cavities at the same time for heightened productivity and reduced costs.
Contact SIMTEC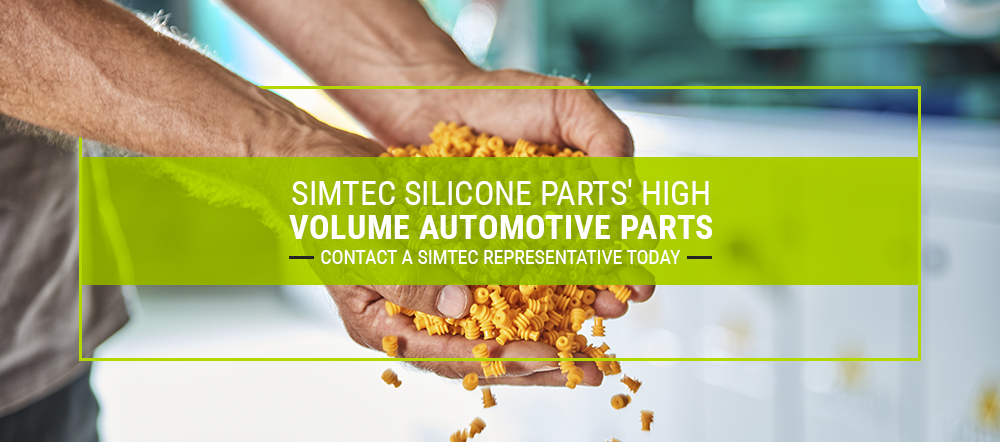 SIMTEC Silicone Parts provides custom solutions to satisfy the automotive industry's stringent requirements. The major Tier 1 and Tier 2automotive manufacturers rely on our innovative LIM (Liquid Injection Molding) expertise and productivity for programs involving single-shot, two-shot & multi-shot LSR injection molded components.
Contact SIMTEC online or call us at 954-656-4212 to explore how LSR and SIMTEC's LSR component solutions for your high-volume automotive parts requirements can offer you an edge over your competition.