How SIMTEC's Liquid Silicone Rubber (LSR) Technology Can Benefit Your Company
Liquid silicone rubber car parts are the ideal for OEM as well as tier-one and tier-two auto suppliers. Compared to conventional forms of rubber, it's what the automobile industry has been searching for. When you manufacture a car, rubber parts are implemented in hundreds of different components, but none can withstand the various advantages of LSR automotive parts.
If you require specific solutions that will last long-term through high temperatures and increase the overall performance of your automobiles, automotive injection molding from SIMTEC Silicone Parts is your go-to answer. We produce LSR car parts ranging from gaskets and grommets to seals and spark plug boots.
In an industry that continues to be more and more competitive, auto suppliers need our innovative LSR technology to gain an advantage and propel the industry forward. If we continue to stick with original forms of rubber and plastic parts for our cars and trucks, we will continue to see components that can't withstand various elements — which puts a dent in costs and production.
Reading This Guide Will Help You Understand LSR and How It Can Impact Your Auto Business
This guide will review what LSR is and how using LSR in the automotive industry can benefit your business.
At SIMTEC, we use three different processes to produce various components — LSR, 2-Shot LSR and LSR overmolding. We also put our rubber through a vulcanization process that creates a solid, advantageous product. Liquid silicone rubber automotive parts are so durable because of the complex crosslinking thermosets (plastics) and elastomers (elastic polymers) undergo during the vulcanization and curing process.
The different ways liquid silicone rubber can be used in the automotive industry may surpass your expectations. From connectors and electrical actuators to E-mobility, sensors and ignitions systems, SIMTEC can manufacture each to your specific needs. There is an extensive list of parts that can be made with LSR — and in turn, benefit your company and the auto market.
Further into the guide, we'll discuss how the injection molding of automotive parts impacts the driverless car market. SIMTEC technology can create components like key FOBs, LED lighting seals and door light switches for autonomous vehicles. The extent to which LSR products effect the market is extraordinary.
We'll also take you through an in-depth look at the benefits of liquid silicone rubber. The ability to withstand high and low temperatures as well as being biocompatible are just two advantages of implementing our solutions.
The closing chapter in our guide looks at the expected trends and growth of the LSR market as a whole and within the automotive industry. With this information, you can predict how it will affect your company with its future applications.
We'll provide you with extensive details of how you can use SIMTEC LSR solutions in large quantities to apply to any application you require for automobile purposes. You can learn about its specific properties and how high-temperature grommets or rubber automotive seals can positively impact your vehicles. You will gain a competitive advantage with liquid silicone as well as the ability to provide consumers with an astonishing driving experience.
TABLE OF CONTENTS
---
CHAPTER 1: WHAT IS LIQUID SILICONE RUBBER — LSR?
LSR DEFINITION AND THE VARIOUS MOLDING PROCESSES SIMTEC USES
Liquid silicone rubber is a term you may not hear of often, but you see it on a daily basis without taking notice. For example, LSR products are found in your car, home and hospitals.
The basics of LSR are quite simple. The raw material used for silicone rubber is either sand or silicon dioxide. At SIMTEC Silicone Parts, we process the material into pure silicone metal which is then reacted with methyl chloride. A range of processing steps afterward creates various types of silicone, including liquid.
LSR is a two-component active chemical, and each chemical arrives at our location separately. Otherwise, a chemical reaction between the elements would occur before reaching SIMTEC.
From there, we mix a 1:1 ratio which creates a chemical reaction to form a thick consistency — similar to the consistency of peanut butter, to help give you an idea. With the addition of heat, the liquid changes into solid rubber where we can form thousands of different products.
1. SIMTEC'S LSR INJECTION MOLDING PROCESS
LSR injection molding for automotive rubber components is a clean production. Sealed within a closed system, the chemicals have no contact with the air until we remove the finished product from the mold. It eliminates the contamination of moisture and dust which can affect the results. The closed method improves the quality of the LSR parts since impurities like dust can diminish the rubber's physical properties.
The closed-loop system, which has two components, controls the LSR dispense ratio. It monitors the flow of materials using helical gears and high-resolution flow meters. The helical technology uses gear teeth to measure the flow of material in increments. From there, the information loops its way back to the controller who operates the valve. Because the valve alters the flow of material with the flow meter, it forms a closed loop.
Measurements from the system guarantee the machine is running on-ratio which will prevent the manufacturing of faulty parts. SIMTEC uses the closed system to reduce waste and excessive rework caused by off-ratio dispensing. It has a significant and positive impact on the quality of LSR products.
Qualities of the LSR injection molding process are superior to other approaches such as high-consistency silicone and other injection molding procedures of thermoplastic. With hundreds of applications for automotive rubber products, it's ideal for long and short-run part production.
SIMTEC custom-molds automotive silicone parts using the LSR injection process for high-volume demands. If you require large quantities of seals, gaskets and automotive rubber trim, we build whatever molds you need to your precise specifications. The benefit of using the injection molding process for high-volume production means cost-effective manufacturing. This process provides you with increased production, consistent part quality and more accessible processing for all parts produced.
2. OUR LSR 2-SHOT INJECTION MOLDING TECHNIQUE
The LSR 2-Shot injection molding process is a versatile procedure that allows us to construct parts in a range of configurations and sizes. Essentially, it integrates several parts, functions and materials into one element that's fused together — this process of multi-component molding is also known as overmolded, co-injection and two-component (2K).
We overmold LSR to a thermoplastic substrate after the substrate has been molded, using the same injection molding machine and mold. By using the 2-Shot injection molding process, features of both materials are present, and post-molding operations are not necessary.
The benefits of using this automotive rubber molding process are:
Better quality control
Greater integrity
More attractive appearance
More comfortable and ergonomic for end-users
LSR 2-Shot molding can result in more complex designs, part weight optimization, multiple material integration and multiple functions in one part when necessary. If you need parts with tight tolerances and complicated structures, the 2-Shot process is ideal. When we use this procedure, we can produce repeatable solutions of premium precision and top-quality parts for high-volume applications.
Because it decreases the need for further assembly, 2-Shot injection molding is an economical choice for manufacturing LSR plastic automotive rubber products. For example, it can create grommets, ring seals and product housing in the same mold for wiring harness components.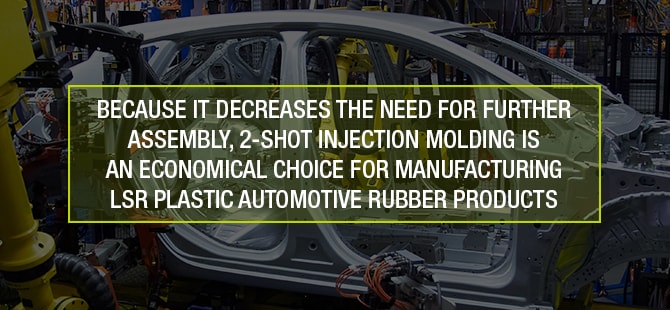 3. HOW SIMTEC USES THE SILICONE OVERMOLDING METHOD
The third process we use at SIMTEC is silicone overmolding, also known as multi-shot injection molding (MSM). It involves several molding steps, including potentially having a completed metal or plastic object placed into the LSR mold. Then, another LSR is overmolded onto the part. A major benefit of this process is the ability to use a non-plastic substrate like steel. Overmolding allows you to incorporate elements into the injection process.
Benefits of overmolding include:
Alignment of automotive grommets and plugs, gaskets, seals, etc.
Consistent thickness and clean surfaces
Design flexibility
Integrate bonding and non-bonding materials
Mold complex designs
Quality control
Save time and money with reduction of assembly steps, material waste and production time
Superior surface finish
The automotive industry can utilize the overmolding process for various applications. It will create parts that are durable, insulated and tear and fatigue resistant.
The primary advantage of an LS multi-shot injection mold means we integrate several functions into one component. Otherwise, different materials would be needed for different functions, which increases assembly costs.
The injection process sequentially occurs in one machine. The first section is where the first material is injected or placed into the mold. To allow for secondary or tertiary materials to be shot, modifications are made to the mold so that the mold includes cavities and channels for all needed materials to flow.
We employ several techniques, including a moveable core — known as the core-back technique — with slides that can retract and allow the next material to be introduced to the mold to take shape. Careful planning in the molding process beforehand allows us to complete the actual injection process in sequence.
Often, the material with the lower melting point is injected first. With multi-shot injection molding, functions can be integrated into one plastic component, making it more complex than a conventional mold. Although the complexity increases, there is a reduction in costs because the need to include extra mechanical assembly is not necessary.
Multi-shot molding results in higher quality products since the process is completed in the same mold. It offers better dimensional control of each part and creates a stronger bond between materials and hard and soft elements.
WHY THE AUTO INDUSTRY USES LSR MOLDING PROCESSES FOR VEHICLE COMPONENTS
The automotive industry uses LSR rubber parts and products because of its many benefits. With exceptional durability, high thermal stability, tensile strength, tear resistance and other characteristics, OEMs as well as first- and second-tier automotive providers use LSR injection molding.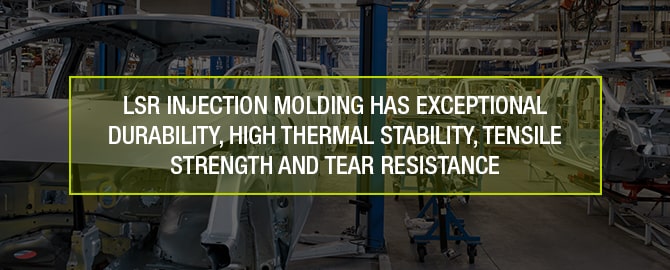 SIMTEC can design and create automobile rubber parts ranging from O-rings and gaskets to buttons and wiring harness components. What's more, we can mold LSR to metal or plastic parts with ease.