BACKGROUND
The ever-changing field of regulations and findings with food related materials results in the change of food product design. To provide safe, reliable products, many producers seek options that will follow future FDA regulation and provide a cost effective solution. Advanced processes, such as multi-shot and two shot molding integrating liquid silicone rubber with other substrates during the molding process, provide solutions that improve bonding, add value and streamline supply chains.
PROBLEM
To follow the BPA-free regulation that had been put forward, a new material was selected, but it did not provide the structural integrity required for normal use. A new seal was designed to fix the structural flaw and provided proper sealing. With the need for both structural support and a proper sealing surface, two materials had to be determined that not only were BPA-free but that also bonded well together.
SIMTEC

 SOLUTION
After material research, a two-shot component consisting of PBT (polybutylene terephthalate) and LSR (liquid silicone rubber) was designed. Following FDA regulations, both materials are BPA-free and pass other required tests.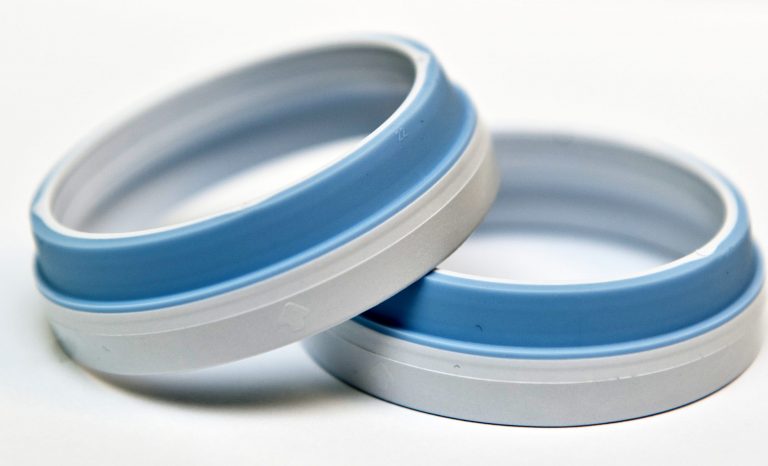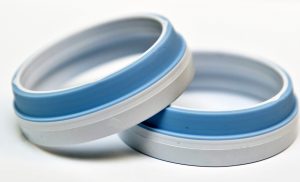 The support needed by the product would be provided by an inlayed PBT ring. Tight tolerances are needed to ensure that deformation is not an issue, since the component supports a connection in its application. By carefully managing the mold flow through multiple gate locations, a uniform part that meets the narrow tolerances is produced. The part is produced with a tolerance of plus or minus 0.06 mm on an inner diameter of 45.80 mm. For the 49.60 mm outer diameter, a tolerance of plus or minus 0.1 mm was achieved.
The LSR was molded within the PBT part to form provide a secure seal. Based on SIMTEC's decades of experience with LSRs and two-shot LSR injection molding, SIMTEC engineers determined a two-shot rotation mold was the best 2k solution. In a two-shot molding process utilizing a rotating mold, the thermoplastic is injected into the mold producing the plastic component, the mold then rotates aligning the thermoplastic parts with the LSR mold cavities for injection and integration of the LSR seal with PBT ring.  For this application, a rotating mold was beneficial because the part is never removed from the core, it eliminated the chance of damage due to misalignment when the part is reinserted into the LSR mold. Since the part is never removed from the core, a longer cooling time is mitigating deformation issues and meeting tight tolerances.