SIMTEC was approached by a large medical OEM customer seeking a solution for their new medical device in design development. A solution was needed for all project phases including prototyping and high volume production along with secondary slitting operation. The device needed was a surgical handpiece that included a liquid silicone rubber one-way slit valve serving a critical function. The valve required high volume, clean room production and packaging.
BACKGROUND
Ophthalmology is the study of eye-related medical conditions. In this field, ophthalmologists deliver medical treatments and surgeries to relieve afflictions ranging from infections to cataracts to optical nerve issues. These doctors perform surgical procedures using various ophthalmologic instruments that are crucial to operational success. These tools must perform reliably due to the precision and delicate nature of their use, navigating the intricate and fragile inner workings of the eye anatomy with high-stake consequences.
Liquid Silicone Rubber (LSR) has proven a valuable material for ophthalmological instruments, providing the biocompatibility required for contact with human fluids, and the vital sealing properties needed for one-way valves. The hygienic, precision and accuracy offered by automated clean room injection molding and inline slitting offer a solution that delivers the precision and reliability needed to ensure patient safety.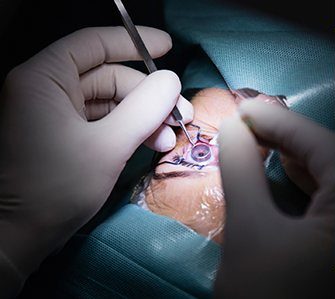 CHALLENGES
Critical Function
SIMTEC's customer, a manufacturer and global leader in medical devices, designed a new hand-held ophthalmological surgical instrument used to facilitate the safe removal of the eye's natural lens during cataract surgery. This small surgical device utilizes a one-way valve that serves a critical function to ensure patient safety. The purpose of the check valve is to allow fluid to pass in one direction and then seal to maintain pressure, preventing backflow and depressurizing the patients' eye that can lead to serious complications during surgery.
In cataract surgery, maintaining ocular pressure is critical for patient safety. By sealing against the device's end piece, the check valve closes when detecting any change in the end piece pressure.
Valve Slitting
Given the critical nature of the valve's function, the accuracy of the slit length, orientation and positioning, is extremely important.
Typically a molded-in slit is not a viable option as it leaves a gap of a minimum 0.010" (0.25 mm) which is undesirable as it can allow for some fluid to backflow. Therefore a secondary cutting or slitting operation is required and performed after the valve is molded. Traditionally when a slitting operation is performed as an independent secondary operation, a standard bowl feeder or other automation equipment is used. However, this type of secondary operation adds costs and time to a project, and poses orientation, alignment and quality challenges.
SIMTEC's SOLUTION
Early Support
At SIMTEC we offer our support in the early stages of our customers' projects, providing valuable material guidance, design recommendations to optimize manufacturing (DFM), and a quality assurance plan to help ensure a successful project. 
Self-Healing LSR 
A known characteristic and benefit of LSR materials are its self-healing characteristics, in fact this feature is why LSRs are widely chosen and preferred for sealing applications. However for components such as check valves, one-way valves and other applications using a slitting concept, these self-healing characteristics can present challenges. SIMTEC has decades of experience and expertise in LSR injection molding, and with this knowledge combined with an understanding of our customer's requirements, we were able to offer a solution. SIMTEC recommended a reduced self-healing LSR grade that met our customer's requirements.  Additives and other methods are also available options for reducing healing.
Pilot & Production Parts Production
To meet the need for a limited quantity of molded LSR parts for clinical trialSIMTEC built a 4-cavity insert package that would run in a SIMTEC mold base. The pilot production was automated and within an environmentally controlled enclosure accurately representing the production product. 
An 8-cavity high capacity production mold went into production following pilot production. Learnings from the pilot production were applied to the production process thereby streamlining and minimizing debugging time. 
Inline Slitting Process
SIMTEC designed a customized inline process to perform the slitting operation immediately following the molding step. The components are robotically removed and securely placed and aligned in the custom fixture for slitting. Once the precision slitting function is completed, the parts are conveyed within the hygienic enclosure into a class 8 cleanroom for inspection and packaging. 
Inline Value-Added Benefits
Performing the slitting operation within the same process added great value for our clients.  We shortened our clients' supply chain by serving as a single source for both the molding and the slitting operations, saving time and costs and enhancing quality. Alternatively, secondary equipment such as automated bowl feeding equipment traditionally used for secondary slitting operations can result in higher defects due to inconsistent alignment that can damage the components, increase downtime, and ultimately result in higher operational and maintenance costs.
SIMTEC's customized, automated inline slitting offered our clients a better solution. With a value-added, inline process, we are able to provide higher output, and the precision needed for consistent and accurate slit length, orientation, and positioning over the 10-year project lifetime.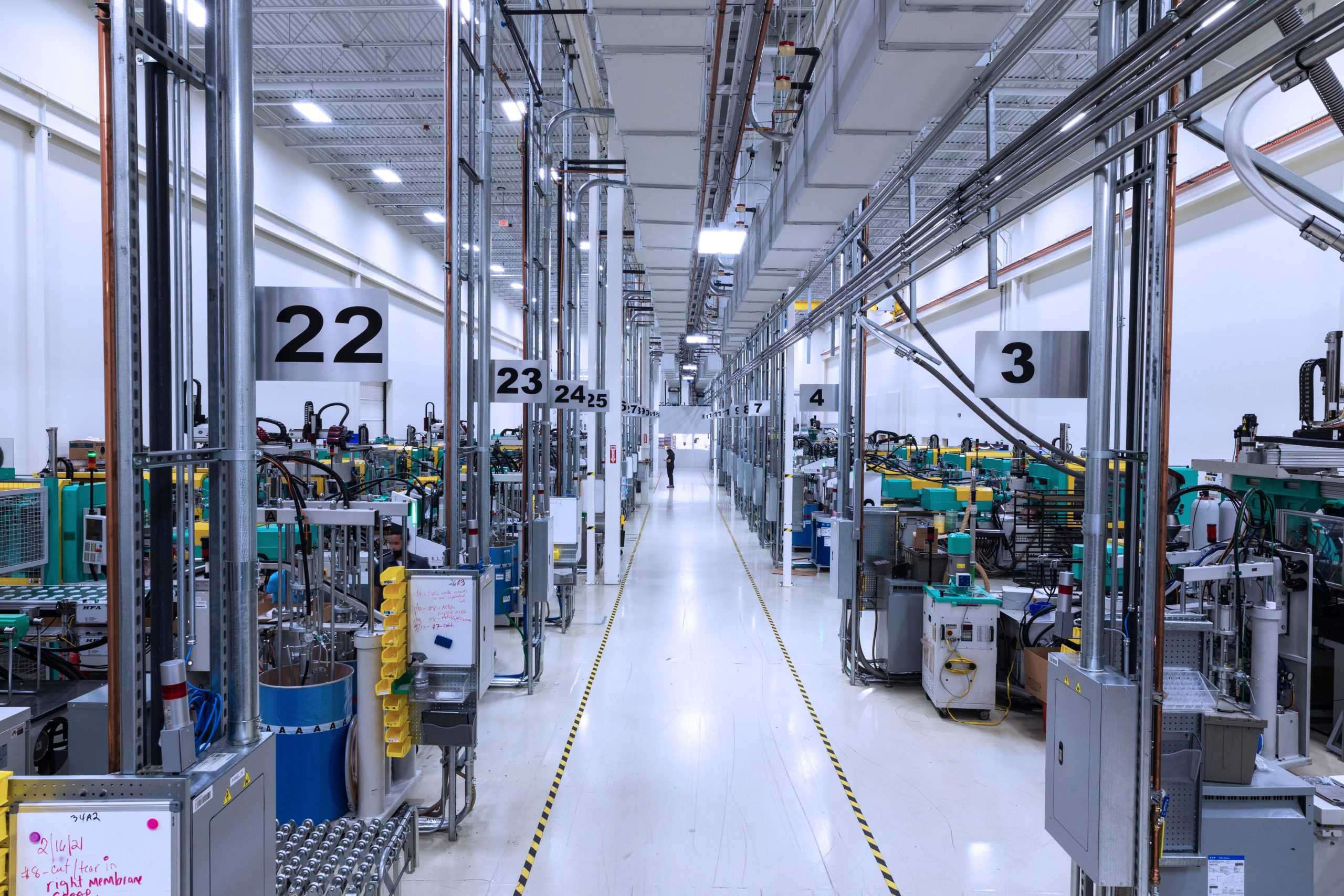 Execute Your LSR Project
SIMTEC has spent over two decades of custom-manufacturing LSR components for Fortune 100 and other leading companies. We can offer unique solutions to meet the needs of your specific requirements, deliver superior service, and consistent quality LSR injection molded parts you can rely on.
Contact us to discuss how we can help with your next project today.
Contact SIMTEC To Discuss Your Project Today
With design flexibility, advanced technology and exceptional quality, there's no better partner to manufacture your high volume Liquid Silicone components than SIMTEC. Contact us today to discuss your requirements.