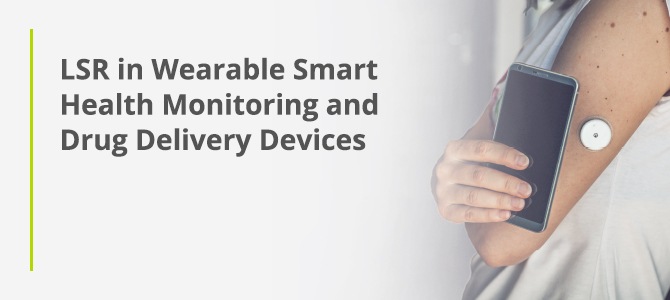 The past few years have seen several advancements in wearable medical device technology for patient monitoring devices and devices for drug delivery. Wearable devices include those used for monitoring vital signs, respiration, and measuring glucose levels for example, and also in drug delivery devices used for administering personalized doses of insulin, and medication used during chemotherapy and other treatments. Wearable devices allow for monitoring health and health-promoting activities on a continuous basis, and can raise awareness for enjoying a higher quality of life.
Liquid silicone rubber (LSR) is a key material for such devices. LSR offers numerous advantages, including from a soft tactile feel preventing skin irritation in long-term skin contact applications, and for fluid path applications, LSR's superior properties offer reliable sealing performance preventing permeation of leachables and extractables.
In the guide below, we'll explain how these devices work, describe their advantages in different applications and show you how SIMTEC can help provide quality LSR parts to enhance the overall quality of these devices.
WHAT ARE WEARABLE MONITORING DEVICES?
Wearable medical devices are products users can wear to monitor and analyze their health data. This technology is attractive because it is a convenient method for keeping an eye on medical conditions, health promoting activities and overall well-being, and does not interfere with regular activities.
The devices are comfortable to wear, and users can go freely about their daily life while wearing them.
Because of their quality and popularity, the market for these devices is projected to grow at a compound annual growth rate (CAGR) of 18% from 2017 to 2023.
Examples of wearable medical devices and monitoring devices include the following:
Fitness trackers
Smartwatches
Continuous glucose monitors (CGMs)
Electrocardiogram (ECG) monitors
Blood pressure monitors
Temperature monitors
Respiratory masks and monitors
Oxygen saturation monitors
Heart rate monitors
WHAT ARE DRUG DELIVERY DEVICES?
Wearable devices are also used for drug delivery. They are convenient for patients, easy to use, and can eliminate the need for excessive trips to medical facilities to treat chronic conditions, and for pain management. For regular and daily medications, the drug delivery device eliminates the need for a patient to self-inject using a syringe, as it is performed by the device. It also allows for large-dose medications that are typically administered over a long period of time at a medical facility for chemotherapy treatment and other lengthy treatments, the drugs can be administered at home with remote medical supervision.
Wearable drug delivery devices are used for diagnostics and administering a wide range of medications, treatments and therapies, including:
Asthma
Insulin
Pain management
Chemotherapy
Antiviral medications
Immunosuppressants
Dialysis
Respiration therapy
WHY IS LSR A GOOD MATERIAL FOR MEDICAL WEARABLE DEVICES?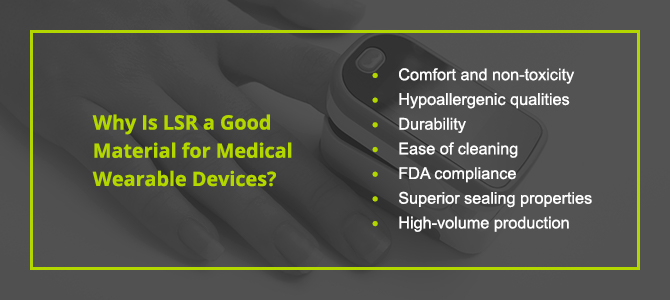 Why is LSR a good material choice for medical wearable devices? Below are a few of the benefits they provide:
Comfort and biocompatibility: Wearable monitoring devices will be in contact with the user's skin for hours at a time — possibly even all day. LSRs' soft tactile feel and biocompatibility makes them comfortable to wear for long periods of time.
Hypoallergenic qualities: Products made of LSR won't irritate the wearer's skin or cause allergic reactions because silicones have an organic backbone, they are biochemically inert and a good match, even for those with allergies or sensitive skin.
Durability: LSR is a durable material and can stand up to the rigors of long-term, all-day wear, even during outdoor adventures in hot and cold, and wet and dry conditions.
Ease of cleaning: LSR is easy to clean and sanitize and stands up well to cleaning and disinfecting agents. It is also resistant to microbial growth.
Regulation compliance: Medical wearable devices must comply with the stringent requirements of the Food and Drug Administration (FDA), United States Pharmacopeia (USP Class VI), and ISO 10993 .
Superior sealing properties: Small seals are used on the micro-components found in these devices and LSR's low compression set and excellent mechanical properties offer resilient performance and protection from the harsh elements.
High-volume production: LSR parts are manufactured using a liquid injection molding (LIM) process which allows for continuous and stable production capable of "lights-out" operation. The precision and dimensionally stable processing of LIM is exceptionally suitable for mass production of functionally sensitive components that are in use for 5-10 years or more, and with an output capacity of millions of parts from the injection mold, year after year
LSR APPLICATIONS FOR WEARABLE SMART HEALTH MONITORING AND DRUG DELIVERY DEVICES
The use of LSR is prevalent in wearable smart health monitoring and drug delivery devices. Below are just a few:
1. CONTINUOUS GLUCOSE MONITORING (CGM) SYSTEMS AND PERSONAL GLUCOSE MONITORING DEVICES
Diabetes diagnoses have been rising across the United States in recent years. According to the U.S. Centers for Disease Control and Prevention (CDC), approximately 34.2 million people in the United States — just over 10% of the population, and 13% of all U.S. adults — live with diabetes. The International Diabetes Federation estimates that about 463 million adults worldwide live with diabetes, and by 2040, this number will likely rise to 700 million. The diabetes monitoring market is likely to grow to $10 billion per year.
New trends in wearable devices call for comfortable, practical solutions to help these millions of people live independent, comfortable and fulfilling lives.
Continuous Glucose Monitoring and Personal Glucose Monitoring devices offer a convenient and accurate means of monitoring blood sugar levels. These FDA-approved systems continually check glucose levels by collecting readings automatically every 5 to 15 minutes throughout the day and night. As a diagnostic tool, they are useful in detecting trends and patterns that can provide the user and their physician with a more complete picture of their specific case of diabetes or simply giving peace of mind when enjoying food otherwise off limits.
CGMs also will alert the wearer if their glucose levels are too high or too low, an important function to help ensure the health and well-being of the user.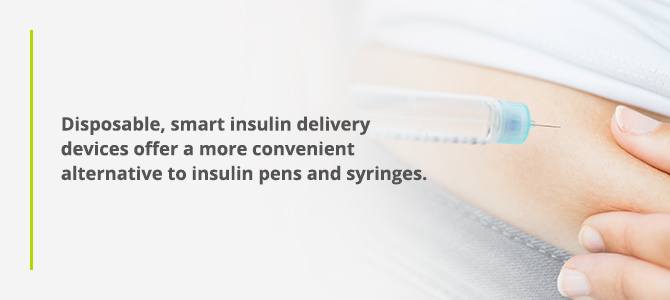 2. SMART DISPOSABLE INSULIN DELIVERY DEVICES
Disposable, smart insulin delivery devices are wearable devices that are worn like a patch for delivering background insulin and offer a more convenient alternative to insulin pens and syringes.
Insulin is added to the device and is automatically delivered at a steady rate over 24 hours. LSRs durability, sealing, and biocompatibility characteristics contribute to helping make these disposable devices durable, and allow wearers to participate in sports and outdoor activities in challenging conditions and terrain.
Dosing is highly critical for a patient and due to LSR's rebound resilience characteristics, LSR responds to small forces, providing fluid delivery information for pressure sensing applications. Also due to LSR's rebound resilience characteristics, LSR provides energy efficiency during pumping applications to improve battery longevity. LSR is great for both static (sealing applications) but also for dynamic (pumping) applications.
3. BRIGHT FUTURE
Personalized, wearable devices used for dosing and time-sensitive drug delivery and monitoring devices is a growing segment in the medical and healthcare markets. From drug delivery devices that are less invasive and convenient for everything from antibiotics to cancer treatments, to wearable devices used for monitoring a variety of pathological conditions.
LSR's mechanical and thermal properties coupled with its performance and biocompatibility attributes will continue to offer scientists, designers, and engineers an ideal material choice for high volume, innovative medical products.
Choose SIMTEC for Your Wearable Device LSR Parts
With nearly two decades in LSR injection molding, and LSR two-shot molding and multi-shot molding integrating polycarbonate and other engineering thermoplastics with LSR, SIMTEC offers unmatched expertise, knowledge, experience and technology for extraordinary solutions:
Design collaboration and support from the start, providing material, geometry and overall process planning to optimize manufacturing and product performance.
Pre-production prototyping in advance of mass production, for final design validations, medical trials and testing requirements
Advanced single, and two-shot molding technologies for high output LSR parts and LSR 2k components.
ISO 13485-certified, hygienic, hands-free manufacturing, and a Class 8 clean room
Manufacturing cells with fully automated in-line secondary processes like slitting, post-curing and packaging
In-house lab for material and metrology testing
Contact us today to explore how LSR and SIMTEC can offer you extraordinary solutions for your component requirements, and add value and heightened performance for your products.