It's no stretch to say that the market for high-quality durable consumer products used in households has never been stronger. Food-grade silicone offers the strength, purity and reusability needed for food preparation and storage products such as baby bottles, reusable beverage bottles, food storage containers, bakeware, and cookware. Food-grade silicone rubber can also withstand extreme hot and cold temperatures explaining its widespread used in gas and electric appliances such as ovens, stoves, dishwashers, hot water heaters, refrigerators, freezers, and other products for the kitchen and throughout the home.
SIMTEC Silicone Parts has decades of experience in high-volume production of food-grade liquid silicone molded parts for major manufacturers and other Fortune 100 and Fortune 500 companies. With our expertise, we can assist with all aspects of the production process, from early design stages through parts production and post-molding value-added processes.
What Is Liquid Silicone Rubber (LSR)?
The odorless and tasteless properties of liquid silicone rubber (LSR) combine seamlessly with its inherent mold and bacteria resistance, creating a safety shield against unwanted contaminants. With LSR's hydrophobic nature resisting moisture and its easy cleaning, it provides a barrier of protection that safeguards the integrity of your food-related products.
SIMTEC utilizes an extensive array of high-quality, food-grade elastomers. To ensure we have an uninterrupted supply of high quality certified materials, we source materials from our longstanding network of suppliers that are the top material manufacturers worldwide. With a thorough evaluation of your project's timelines and cost objectives, and an understanding of your product specifications and performance requirements, our seasoned experts will provide a solution tailored to meet your specific needs.
Injection Molding Parts for Food and Beverage Products
In addition to a wide range of liquid silicone rubber materials, SIMTEC offers options for producing your high-volume food and beverage products:
Injection molding: SIMTEC's LSR injection molding cells are fully automated and finely tuned to produce high-precision parts with exceptional consistency and speed. The injection molding process is scalable from prototype to high-volume production. LSR molded parts are flash-free with minimal gate indications. SIMTEC can help you optimize your product quality, streamline time to market and offer a value-added solution to keep your budget in line.
Two-Shot and Multi-Shot injection molding: For components with the need for varied characteristics such as rigid and flexible physical characteristics for example, an LSR 2-Shot or LSR Multi-Shot injection molding process offers this added design versatility. Special, self-adhesive food grade liquid silicone rubber materials are used that will bond with thermoplastic materials without primers. With this co-injection process, the LSR and plastic materials are molded and bonded together within the same molding process to form an integrated, multi-material component with a superior bond. This advanced molding process offers additional design flexibility and adds value by by reducing the number of components and eliminating the need for secondary assembly operations.
In addition to the enhanced quality and time-saving advantages SIMTEC's injection molding and multi-shot molding solutions offer, SIMTEC can also add value and streamline post-molding processes too. For products requiring assembly, printing, slitting or other value-added processes after molding, SIMTEC integrates these value-added post molding processes, and robotically performs these functions inline, immediately after molding. The result is precision accuracy, added value and a streamlined process. Contact SIMTEC to explore how our the range of services can add value to your products.
What Products Are Made Using Food-Grade LSR?
Food-grade LSR is used to make many different products, from those used in homes and commercial institutions, to hospitals and schools. Food-grade silicone is available for applications that require FDA-approved materials, or for use where supreme resistance to chemical and bacterial contamination is desired. Some of the products that can be made using LSR for food-grade products rubber include:
Baby bottles, pacifiers, eating utensils, beverage bottles and dispensers, and food storage products. These product must be both safe and strong.
Cooking utensils, oven mitts, baking cups and molds, ice cube molds, and a range of other food-contact products that require the ability to withstand extreme hot and freezing temperatures without becoming brittle or degrading over time. When using LSR, these products are longer-lasting and more durable than conventional plastic products.
Valves, membranes, gaskets, and seals that are exposed to food. This can range from home storage solutions to industrial equipment used to manufacture, process, transport, and prepare foods and beverages. LSR is an ideal choice that is easy to sterilize and features low creep and compression set, even in heavy-duty applications.
These are just a few potential uses for food-grade liquid silicone rubber — new products are constantly being developed and tested.
As a company at the forefront of LSR manufacturing, SIMTEC can offer innovative solutions to solve your company's challenges. Contact our office directly to discuss your specific requirements.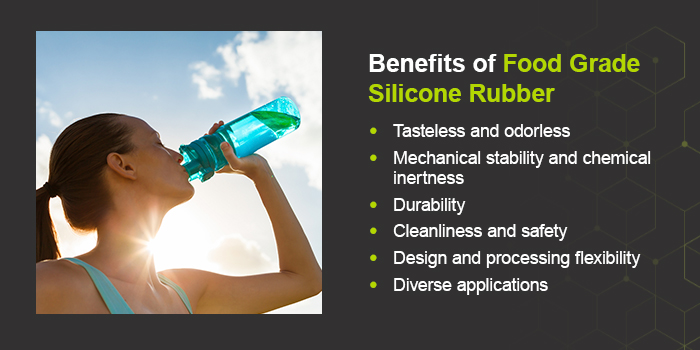 Benefits of Food Grade Silicone Rubber
SIMTEC produces a wide range of high-volume custom food and beverage products with varied features and sizes. Depending on the application, when compared to plastics, thermoplastic elastomers (TPE), rubbers and other materials, LSR offers a number of advantages.
Several characteristics establish LSR for food-grade solutions as the intelligent selection for a wide range of products:
Tasteless and odorless: With its tasteless and odorless nature, food-grade LSR ensures that the purity and essence of food and beverages remain unaltered. Enjoy the confidence of knowing that your product's flavor integrity remains uncompromised, delivering an unparalleled sensory experience.
Mechanical stability and chemical inertness: Demonstrating unwavering mechanical properties over time, food-grade LSR excels as a reliable material. Its chemical inertness safeguards against corrosive effects, and specific chemical solutions, including alkalis and acids, and cleaning products.
Durability: Food-grade LSR absorbs vibrations effectively, ensuring a smooth and reliable operation in dynamic applications. Its innate resilience allows it to withstand repeated compressions, effortlessly returning to its original shape even under extreme temperature fluctuations.
Cleanliness and safety: Food-grade LSR is a clean and safe solution for producing, preparing, and storing food products. Compliant with the stringent regulations set by the Food and Drug Administration (FDA), its usage aligns seamlessly with Hazard Analysis and Critical Control Points (HACCP) best practices. Furthermore, its hypoallergenic and biocompatible nature and its resistance to bacteria and mold growth ensure the utmost hygiene and safety standards.
Design and processing flexibility: Due to its low viscosity, LSR provides designers greater versatility when designing products. It can accommodate parts with complex undercuts, thin part geometries, tiny micro parts, and multi-material 2k components.
Diverse applications: Food-grade LSR can be utilized for single material or multi-shot applications. A two-shot, multi-shot, or overmolding LSR injection molding process integrates and combines food-grade LSR with other substrates within the same molding process, eliminating the need for secondary assembly operations.
Food-grade LSR injection molding offers numerous benefits from quick cycle times optimizing productivity, high-volume cost-effective production, and opportunities for automation maximizing consistency, accuracy and enhanced safety.
Food-grade liquid silicone rubber is a leading material chosen for consumer products used for the production, preparation, and storage of food and beverages. Its process flexibility and numerous beneficial characteristics make it an ideal choice.
Examples of Food Grade LSR in Action
SIMTEC has been providing custom solutions for over two decades. We have also applied this extensive experience and expertise to help our customers with complex challenges. Visit our Case Studies page to read actual examples of food and beverage related products as well as other products requiring an innovative and effective solution.
Keep reading to learn more about how SIMTEC's experience, expertise and technology are leveraged to an unwavering commitment to delivering the highest quality parts and service, with the best solution possible.
SIMTEC's Approach
One of the first and most important steps we take at the onset of a new project, is working closely with our customers for a comprehensive understanding of the product's needs. Some questions we will ask include:
How will the part be used? Will it work on its own or in combination with other components?
What environmental conditions will the part be subject to? What specific characteristics are required of the material?
What are the aesthetic requirements? Is the part intended for consumer, industrial or medical use?
What are the regulatory requirements? Will the part require FDA approval?
Are there any hygienic requirements? Is a clean room or sterilization required?
What are the weight and load requirements? How big or small does the part need to be?
Are there any secondary assembly, packaging or marking processes needed?
Why Choose SIMTEC?
SIMTEC has the technical capabilities, industry expertise, and commitment to quality and customer service you need for your products. We have a broad spectrum of customers, with diverse products used in a variety of industries. We offer customized solutions, tailored for each project — from simple to complex — and a range of value-added services such as hygienic clean room manufacturing, automated inline assembly, packaging and other services, whatever is needed to meet your specific high volume project requirements.
Since our founding, we've produced billions of custom LSR components used in the food and beverage industry, we understand your needs on a fundamental level and will work with you to ensure we meet your objectives and provide solutions that will help resolve your challenges.
ISO Certified for Quality Assurance
Regardless of the specific market you serve, a quality product of uniform consistency is important to your reputation and ongoing success. SIMTEC can help ensure your internal benchmarks are met by customizing our Quality processes to your specifications. We are ISO 9001, ISO 13485, and IATF 16949 certified, and we take measures to ensure that your orders are properly inspected and tested as required throughout the manufacturing process.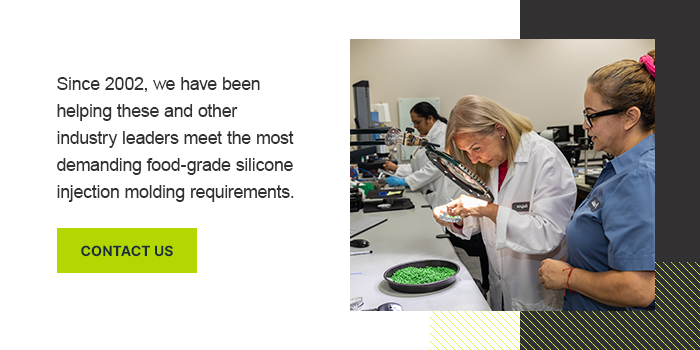 Contact SIMTEC
Our clients include some of the world's largest and most reputable businesses, not only in the food and beverage industry but in the medical, automotive, and industrial as well. Since 2002, we have been helping our customers and providing solutions to meet their product needs and requirements. Contact SIMTEC to find out how we can help you optimize your products using food-grade LSR materials.