It's no stretch to say that the market for high quality, durable bakeware, and other consumer goods has never been stronger. Food grade silicone offers the strength and stress resistance required to manufacture baking trays, bottle dispensers, and other products for the kitchen and throughout the home. It can also be used to manufacture the gaskets and seals used in industrial cooking appliances.
SIMTEC Silicone Parts specializes in the high-volume production of food grade liquid silicone molded parts for major manufacturers and other Fortune 100 and Fortune 500 companies. With our expertise, we can assist with all aspects of the production process, from mold development to packaging.
WHAT IS LIQUID SILICONE RUBBER (LSR)?
LSR is a widely used elastomer prized for its high-temperature resistance and flexible, non-stick nature. It is odorless, tasteless, mold and bacteria-resistant, and hydrophobic, making it an excellent choice for any type of product that comes in contact with food.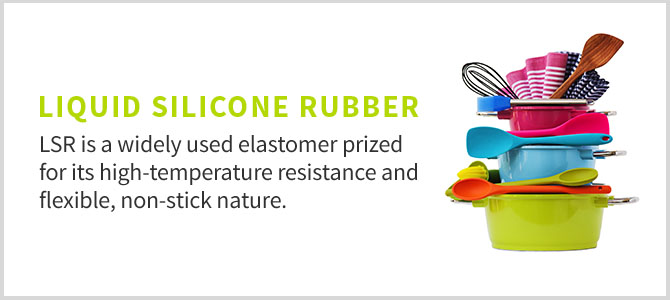 SIMTEC uses a wide range of food grade elastomers produced by manufacturers such as Dow Corning and Blue Star Silicones. Following a careful review of your budget and your product requirements, we can recommend the best raw material for your needs.
INJECTION MOLDED PARTS
In addition to a range of different liquid silicone grades and properties, SIMTEC offers flexible design options to accommodate the needs of any part. We provide:
Injection molding — LSR injection molding produces high precision parts with exceptional consistency and speed. The injection molding process is easily scalable from prototype to high-volume production. Finished products are flash-free and feature minimal gate indications. SIMTEC can also provide mold development and maintenance services, and we can help you optimize your time to market while keeping your budget in line.
2-Shot injection molding — For more complex parts, LSR 2-Shot injection molding of food grade liquid silicone rubber offers additional design flexibility by overmolding LSR onto a plastic substrate. Ideal for adding silicone grips to kitchen utensils, the process creates virtually unbreakable bonds while saving you the time and expense associated with an additional assembly stage.
SIMTEC's LSR molding expertise can reduce the number of steps required to get your product to market. We can provide in-line assembly of multi-component parts, design consulting, and assistance with packaging and shipping. For more information about what we can do for you, or to request a quote for an upcoming project, contact our Miramar, Florida office today.
BENEFITS OF FOOD GRADE SILICONE RUBBER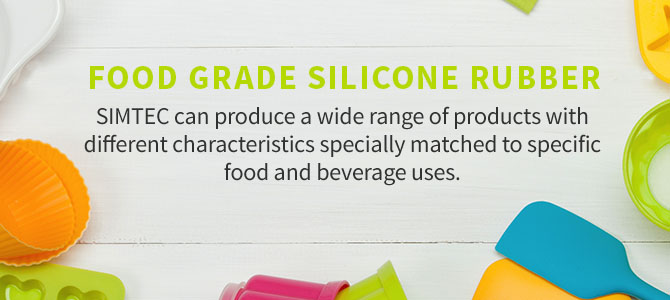 SIMTEC can produce a wide range of products with different characteristics specially matched to specific food and beverage uses. When compared to rubber and other materials, LSR offers a number of advantages, depending on the application. Advantages can include:
Durability: Food grade liquid silicone rubber parts are flame retardant, corrosion resistant, and built tough enough to withstand the daily demands of a busy kitchen or manufacturing facility. They also absorb vibrations easily, are exceptionally pure, and feature a low compression set.
Process flexibility: LSR parts can be formed using both conventional and 2-shot injection molding processes, allowing for greater design flexibility and more potential manufacturing applications. Contact SIMTEC to discuss our technical capabilities in detail.
Heat- and cold-resistance: Critically important for food and beverage applications, food grade LSR maintains its properties in both extreme heat and extreme cold. Unlike other materials, it won't melt or become brittle, which means more reliable equipment and more durable products — important advantages for any organization.
Bacterial and chemical resistance: LSR is also chemically inert and resistant to bacteria and mold growth. This provides peace of mind and compliance with HACCP best practices, helping you manage risk across the supply chain.
FDA compliance: Using liquid silicone rubber is one of the best ways to comply with FDA regulations for kitchen goods. Specifically, SIMTEC can manufacture products compliant with FDA regulation 21 CFR 177.2600, covering "rubber articles for repeated use" such as baking molds, food trays, and more.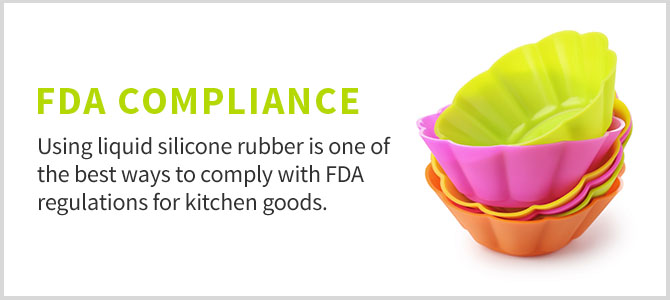 Keep reading to learn more about some of the ways the superior characteristics of food-grade LSR is helping manufacturers develop better products and processes.
COMMON APPLICATIONS OF FOOD GRADE SILICONE
As noted, food grade silicone rubber is highly versatile and resistant to extreme temperatures, making it an excellent choice for products used in everything from the home kitchen to industrial manufacturing and processing plants. FDA-approved food-grade silicone is available for applications that require it, or for any usage where supreme resistance to chemical and bacterial contamination is desired.
Some products that can be made using food grade liquid silicone rubber include:
Baking molds, ice cube trays and other home kitchen products that require the ability to withstand freezing temperatures and hot ovens. LSR trays and molds don't become brittle when exposed to the cold, making them longer lasting and more durable than conventional plastic products.
Plastic spatulas or grips for knives, whisks, spoons, and other utensils. LSR is ideal for kitchen utensils because it is chemically inert and bacteria resistant. LSR can be easily overmolded onto plastic substrates, so manufacturers can make complex products with less labor and lower overhead costs.
O-rings, gaskets and other seals that are exposed to food. This can range from home storage solutions to industrial equipment used to manufacture, process, transport, and prepare foods and beverages. LSR is an economical choice that is easy to sterilize and features low creep and compression set, even in heavy-duty applications.
These are just a few potential uses for food grade liquid silicone rubber — new products are being developed and tested all the time.
As a company at the forefront of LSR manufacturing, SIMTEC can help find innovative solutions to the challenges your company faces. Contact our office directly to discuss potential applications for our food grade LSR products.
FOOD GRADE LSR IN ACTION
SIMTEC has extensive expertise in using food grade liquid silicone rubber for mold making and other applications. One of our main specialties is helping you solve complex problems associated with food and beverage manufacturing.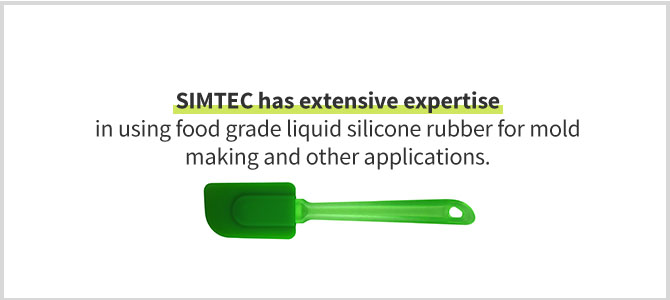 For example, the recent phase out of BPA-containing plastics left many manufacturers struggling to adapt their product lines to a new regulatory reality. One of our clients found that their proposed alternative, PBT (polybutylene terephthalate), did not deliver the structural integrity required of it.
To solve this problem, SIMTEC developed an LSR seal that bonded with the PBT and corrected the structural issue. A 2-shot injection molding process eliminated the need for additional labor, and ensured that the tight tolerances our client required were met.
Visit our Case Studies page to read further examples of both the real-world benefits of using food grade LSR, and of the many ways our engineering expertise can help you deliver a superior product while keeping costs down and maintaining compliance with current and future regulatory standards.
FOOD GRADE INJECTION MOLDING AT SIMTEC
One of the first steps in designing food-grade liquid silicone rubber parts is to develop a mold. Mold development is a complex process that employs precision machining equipment and a careful consideration of a number of factors. Some questions we will ask when developing a mold include:
How will the part be used? Will it work on its own or in combination with other components?
What environmental conditions will the part be subject to? What specific characteristics are required of the material?
What are the cosmetic requirements? Is the part intended for consumer or industrial use?
What are the regulatory requirements? Will the part require FDA approval?
What are the weight and load requirements? How big does the part need to be?
The diversity of items produced using food grade liquid silicone rubber makes every mold development process unique. Because of this, however, mold development is one of the most expensive parts of bringing a new item to market.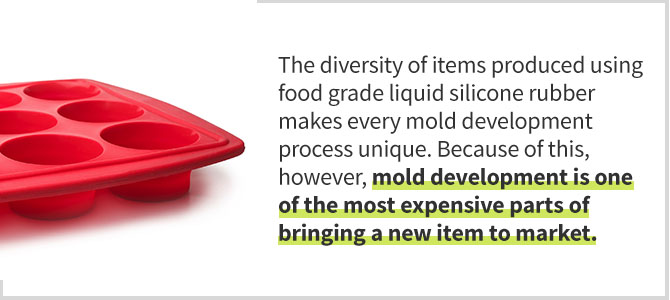 When you work with SIMTEC, we'll sit down with you and go over your options in detail to ensure the process is as fast and painless as possible. If modifying an existing mold is a possibility, we will advise on that, as well.
WHY CHOOSE SIMTEC?
SIMTEC has the technical capabilities, the industry expertise, and the commitment to customer service you need for your products requiring food grade liquid silicone rubber parts and components. We work with a range of companies with diverse products and high volume requirements. We can handle complex or simple projects and offer value-added services including hygienic manufacturing, in-house post curing, automated assembly, and packaging.
Since our founding, we've produced products for the food and beverage industry — we understand your needs on a fundamental level, and will work with you to ensure they are met.
ISO CERTIFIED FOR QUALITY ASSURANCE
Regardless of the specific market you serve, a quality product of uniform consistency is important to your reputation and ongoing success. SIMTEC can help ensure your internal benchmarks are met by customizing our QA processes to your requirements. We are ISO 9001:2015, ISO 13485:2016/NS-EN ISO 123485:2016, and IATF 16949:2016 certified, and we take measures to ensure that your orders are properly inspected and inspected at all stages of the manufacturing process.
Our clients include some of the world's largest and most reputable businesses, not only in the food and beverage industry but in electronics, automotive, and industrial as well. Since 2002, we have been helping these and other industry leaders meet the most demanding food grade silicone injection molding requirements. Contact SIMTEC to find out how we can help you.