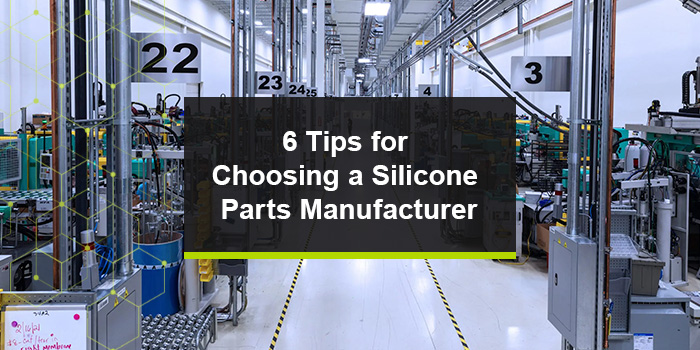 Selecting the manufacturer for producing your parts can be challenging. The meticulous process for evaluating possible manufacturing partners who can consistently deliver top-notch parts requires a comprehensive evaluation of factors. In addition to seeking a supplier that aligns with your cost objectives, it is imperative to forge a symbiotic partnership with a manufacturer that embodies the reliability, responsibility, and an unwavering commitment to deliver quality customer service and quality products.
As you begin to consider choosing a silicone parts manufacturer, we suggest that you develop a strategic approach that will lead you to the right fit. Understanding your own specific needs and becoming aware of how the benefits offered by a parts supplier can meet them will help you keep your priorities and goals in focus. You'll also want to come prepared with detailed questions that will further highlight a manufacturer's ability to successfully provide you with a high-quality product and service to match.
SIMTEC has years of experience providing innovative and value-added solutions that meet the production needs of our customers in nearly every industry. We understand that entrusting a manufacturing partner to produce your parts is not a decision that's made lightly, especially for critical function parts and life-saving products. To assist you in selecting the best match for your unique needs, we've gathered informative tips and helpful advice that will help you identify the right parts manufacturer for your specific project.
Benefits of Contracting a Parts Manufacturer
Employing the knowledge, skills, and expertise of an external manufacturer for your parts is an effective way to reduce the overall costs associated with getting your product to market. Companies large and small outsource specific elements of their production to specialists who can deliver high-quality parts at affordable prices. Here are some reasons why?
To reduce your overhead costs: Though investing in your own manufacturing equipment is a way to keep the complete production process within the capabilities of your business, this investment can make it difficult to become cost-competitive. From the initial purchase and maintenance of the machinery, to the budget needed to train and employ qualified workers, the overhead expense of production can be high. A parts manufacturer absorbs these costs, allowing you to solely pay for the parts and service.
To gain valuable expertise: You may have an expertise in the design and mechanics of a product but how specialized are you in making the components? Trusting your parts production to an outside supplier means enlisting their advanced technical knowledge and skills to manufacture your parts. Many may also have access to cutting-edge technologies and may be well-versed in the latest techniques that can help create a reliable product that will meet or exceed industry standards.
To enhance flexibility and agility: As your company grows, your needs and requirements may change. This means potentially having to upgrade, rework, or augment your own production operation. When you trust your parts manufacturing to an experienced supplier, their flexibility to maintain your continued growth, the ability to add capacity as needed to meet increases in demand, and the agility to adjust to new requirements to keep production on schedule. Their swift and accountable response to change ensures your business is not interrupted.
To add another level of support: You have a team of dedicated employees supporting your vision — why not bolster that encouragement by investing in a partnership with a production facility? A parts manufacturer can offer you more than high-quality products. Building a long-term relationship with a production supplier can lead to rewarding benefits that bring success to both parties.
To focus on your business: Whether you're trying to expand your business or prototyping a new product in the development stage of a new product line, you likely have enough responsibilities to juggle. Managing a successful production line doesn't need to be one of them. For a parts supplier, this is their core competency, it's what they do and they can do it with ease. With your parts manufacturing off of your plate, you can focus your company's efforts on increasing revenue and profit.
Whether you have a prototype, small batch fulfillment or need large-scale production, producing your own parts can be a costly and time-consuming process. Instead of attempting to perform duties that do not align with your company's expertise, enlist an experienced parts manufacturer to provide you with solutions that will meet your production needs so you can focus on the areas of your business that require your knowledge and skill.
6 Tips for Choosing a Parts Manufacturer
Partnering with a trustworthy parts manufacturer is undoubtedly a prudent choice that can yield significant benefits for your business. However, consider the following factors before finalizing your decision and committing to a particular supplier. Selecting a parts manufacturer is pivotal in establishing the foundation for long-term success. To assist you in this endeavor, we have compiled these tips for choosing a silicone parts manufacturer:
1. Find a Supplier With a Good Reputation
The reputation of a business is essential to its success. Reputation can be measured by a number of factors including organizational ethics, financial performance, leadership and management, social responsibility, reliability, quality of products and services, and the focus on the customer. This also includes a company's digital reputation, which can significantly influence a consumer's trust in the business. When companies have a positive reputation in the marketplace, it can convince a purchaser to choose that business over competitors that may offer the same products or services.
You pride yourself not only on your products but on your service as well. To safeguard your reputation for quality, suppliers in your supply chain should share this same commitment to quality and a reputation for delivering quality parts that will elevate the quality of your products and in turn bolster your reputation for quality. If they are known for their reliability, then your orders should be consistently filled on-time. If they're known for their customer service, they should effectively communicate their abilities and work to continue earning your trust and business. Remember — if your supplier falls short of expectations, it could negatively impact your customers.
2. Understand the Potential Long-Term Ramifications of "Low-Priced" Manufacturers
Every business, no matter how financially stable, seeks to lower overall expenses at every opportunity possible. One way this goal can be achieved is to lower the cost of production by selecting a parts manufacturer that offers low-priced material creation. Though a low price tag is tempting, you should exercise caution before choosing a parts manufacturer solely to decrease the amount of an invoice.
Though low-cost companies may offer incentives such as reduced production time or a price-break for higher order quantities or they may be putting their own profit margins at risk. Ultimately, to provide their customers with the lowest costs of production, they'll likely need to cut their own operating expenses elsewhere. If they cannot find a way to offer low rates to their customers while keeping their own business in the black, it could jeopardize their future. If your company doesn't have a backup supplier, your business in jeopardy too.
3. Acknowledge the Difference Between Price and Value
The terms 'price' and 'value' are not interchangeable. In fact, the differences between the two are significant — price is arbitrary while the value is the perceived benefits received divided by the perceived price. Although you may want to minimize your expenses as much as possible, you may unknowingly be compromising quality and that can be very costly in the long run.
Keep in mind that you're paying for more than just the cost of the part, it is advisable to consider value and your total cost. Reliable part quality reduces the risk of product recalls or product failures; on-time deliveries mitigate potential production line shut-downs; and the longevity and stability of an established supplier can help ensure uninterrupted supply. The quality systems, services, technology and knowledge a manufacturer has also adds value and sets them apart from other low-cost suppliers. The overall value you receive will be a combination of the cost, quality, commitment, reliability, and service they deliver to you.
4. Prototyping and Pilot Production Options
Manufacturers increasingly seek a streamlined transition from the developmental phase to full-scale production. Opting for a molding company that can seamlessly expand their services to accommodate your evolving requirements translates to reduced time, costs, and uncertainties associated with bringing your exceptional product to the market.
5. Test Quality and Part Performance
The quality of your product should be one of your top priorities. Quality products benefit your business by meeting customer expectations and industry standards and by managing your costs and reputation. The reliability of consistent quality will build trust with your customers. It's essential that your product is manufactured with the highest quality parts you can source.
Product functionality testing performed by the parts manufacturers helps to confirm the part will perform as needed. A good parts manufacturer has a QA metrology lab with equipment used for part inspections and testing. Functional tests can be performed on your parts, and used to simulate a specific critical function required for its use in the final product. Tests such as leak tests, strength and elasticity tests are some examples. This proven quality provides assurance and adds value.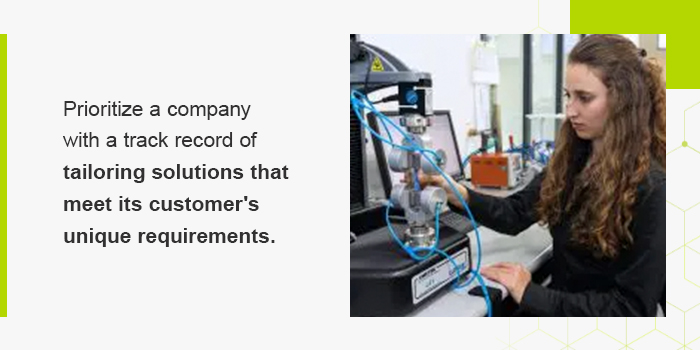 6. Find a Parts Manufacturer That Aligns With Your Business
The realization of your project is contingent upon the expertise exhibited by the injection molding company entrusted with its manufacturing. Choose a partner who exemplifies the trustworthiness and reliability to ensure a successful outcome.
Prioritize a company with a track record of tailoring solutions that meet its customer's unique requirements. Furthermore, they should have open communication channels, take the time to understand your expectations and product needs, and give support throughout every stage of the manufacturing process.
Remember, you are not merely selecting a supplier for your parts — you are forging a partnership that will hopefully become a long-term, mutually beneficial business relationship. While the primary objective revolves around securing a parts manufacturer capable of producing reliable, cost-effective components for your product, a partnership represents an investment in success achieved by collaboration and mutual trust.
Questions You Should Ask Your Parts Manufacturer
Although you may have identified a parts manufacturer that offers reliable service and exceptional products, you still need to discover whether or not they can meet your specific needs adequately. Price of production, order quantities, delivery, and level of cooperation are all factors in determining the right parts supplier for your business. As you create a list of potential suppliers, be sure to ask the following questions:
Do You Require Minimum Orders?
A minimum order quantity, also referred to as an MOQ, is the lowest amount of items accepted in an order. If a manufacturer has a highly automated manufacturing process they are most likely focused on large production runs. Small production requirements require numerous set ups and changeovers that can be inefficient and undesirable for a manufacturer. One of the first questions you need to have answered before selecting a parts manufacturer is whether or not a minimum production order must be placed. If you're a growing business and have limited capital or uncertain demand, the costs for a large production run may be cost prohibitive for a small business just starting out and it may not be feasible for you to invest in a large-scale production run. You should choose a supplier that is aligned with your specific needs.
What Is Your Turnaround Time and Can Delivery Times Adjust as Needed?
A consistent and reliable turnaround time is essential for your business. If you cannot receive your order on-time, every time, then it may negatively impact your business and potentially cause you to lose customers. You need a parts supplier that can meet their commitment to production completion. You should also learn if delivery times can be expedited should you need to meet a high demand within a strict timeframe.
What Additional Support Do You Provide to Your Clients?
The ideal manufacturer will do more than merely provide you with your parts. They will build a partnership through strong service and honest communication. They'll understand your needs and use their own knowledge and expertise to advise you throughout the production process. They'll be committed to helping you reach your goals by suggesting solutions that can add value and reduce costs, offer additional services that streamline your supply chain, or maximize output for heightened productivity and efficiency. They'll strive to meet and exceed your expectations because ultimately, your success is their success.
If your company requires high-quality, high volume custom LSR parts, SIMTEC can fulfill your needs. We are a technology-driven, customer-focused manufacturing partner, with our purpose being to provide a solution that will enhance productivity, meet your cost objectives and deliver the highest quality parts and service possible. We have manufactured billions of versatile LSR injection molded components in an infinite variety of sizes, shapes, colors, and configurations.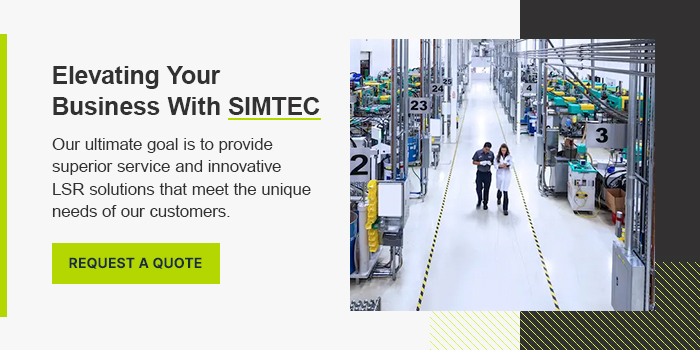 Elevating Your Business With SIMTEC
For years, SIMTEC has gained global trust in providing unparalleled LSR component solutions for many critical and demanding applications. Our commitment to the highest standards of quality and service drives us. We implement a rigorous quality system, ensuring through a robust quality plan, quality inspections, a stable manufacturing process, and precision accurate automation to deliver consistent, reliable quality with each part. View our video gallery to see our system in action. With consistent on-time delivery, we strive to exceed expectations. Additionally, we offer various inline post-molding solutions, including slitting, marking, and packaging processes to add value and streamline your supply chain.
At SIMTEC, our expertise lies in providing custom liquid silicone rubber injection molding solutions. We invest in the latest technology and extensively train our employees, aiming to deliver the best LSR parts in the industry. Our ultimate goal is to provide superior service and innovative LSR solutions that meet the unique needs of our customers.
As a leading silicone injection molding company, SIMTEC serves Fortune 100 businesses with a particular focus in medical, automotive, consumer and industrial industries, among others. Count on us for early involvement, design- and prototype-support, long-run manufacturing, and secondary value-added services . Contact us today to discover how we can assist you or request a quote.